Kea supports a vibrant community of almost half a million Kiwi in 185 countries. In our latest survey we had more than two and a half thousand respondents from 65 different countries.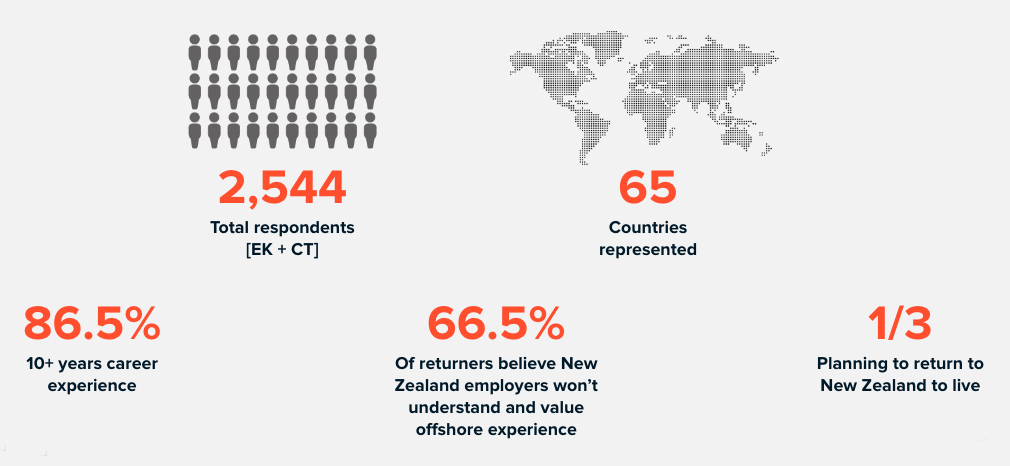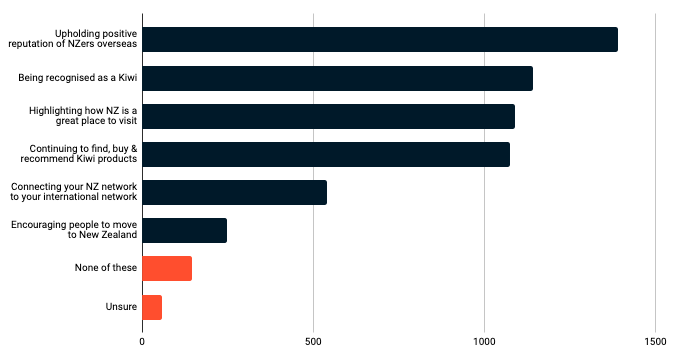 Our offshore community remain some of New Zealand's biggest brand ambassadors and one of the sentiments that came through most strongly in this year's surveys was how proud people are to be considered a 'New Zealander' by their global peers. Many of you commented that Kiwi are known as hardworking, innovative, humble, friendly and up for giving anything a go. These are qualities you are proud of and it's important for our community to live up to them.
However, what was also portrayed strongly is how deeply this sense of identity and pride was disrupted during Covid. Many of you felt excluded and disconnected from New Zealand, and told us that this is a feeling which will take time and empathy to heal.
"My New Zealand identity was always of major importance to me. Unfortunately, the difficulties experienced during COVID and as a direct result of New Zealand's extreme border controls has shifted my sense of identity. I will never understand why New Zealand citizens living abroad were subjected to the impossible MIQ process. It is not an understatement to say that I felt rejected by New Zealand."

– Survey respondent
"I would suggest trying to understand and empathise with overseas New Zealanders that were negatively affected by New Zealand's closed borders and how some of the hurt that has been caused will be difficult for some people to overcome."

– Survey respondent
Even with this sentiment, there remains a continued strong desire to support New Zealand businesses through offering insights and advice, buying and recommending Kiwi products, and encouraging people to visit New Zealand.
"I think we need to encourage the notion that even though some of us work abroad, we are still connected in so many ways, concerned about our home country and wanting to be involved in different ways."

– Survey respondent
"I am interested in supporting New Zealand people and initiatives of any kind that may benefit from expatriate people's international experience and connections."

– Survey respondent
"I love encouraging people to visit New Zealand. Even though I have been away for a few years now, I remain proud of our beautiful country and want to share it with others."

– Survey respondent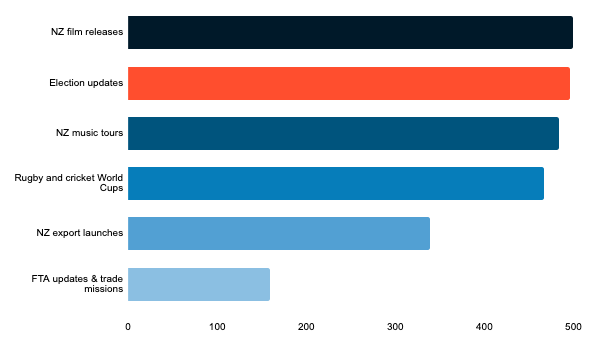 To stay better connected with New Zealand, many of you want information on voting rights for the 2023 New Zealand General Election and also want to hear about things like movie releases, music tours and sporting events in your area. These are all areas Kea will look to connect with you on, via our digital channels this year.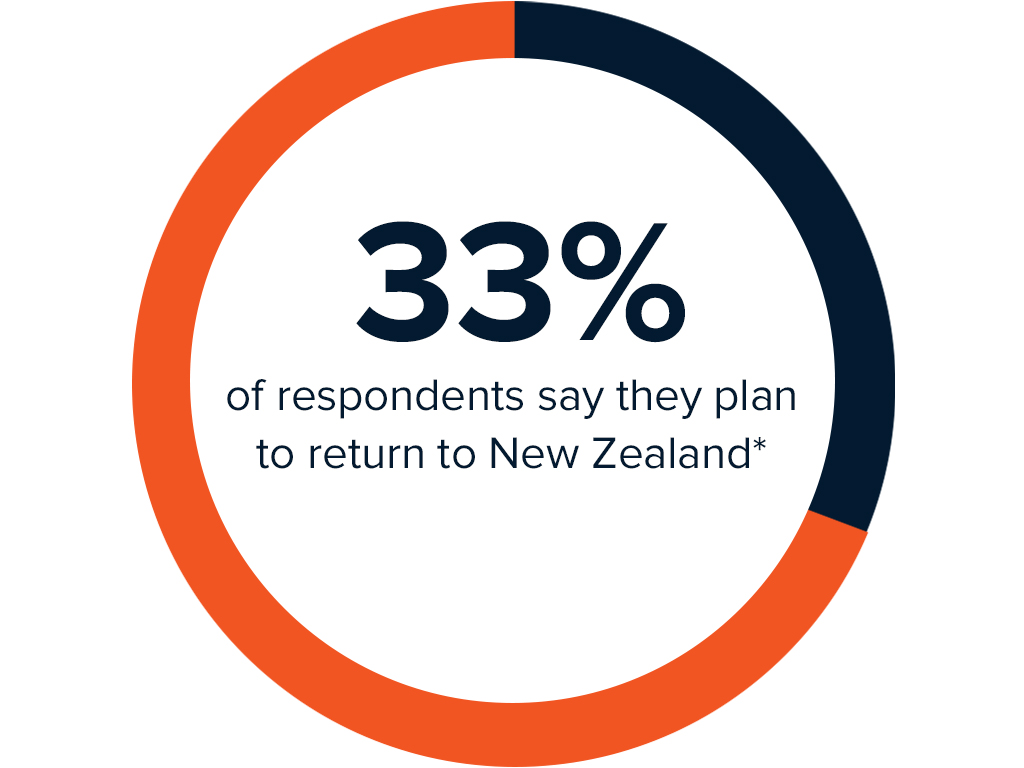 If you would like to update your details to make sure you receive this information please sign in to your Kea account here.
For those of you looking to return to New Zealand there was a clear sentiment that work needs to be done to better support and value returning Kiwi, especially from the business community.
"Despite being highly skilled and flexible on both work and salary, I don't think there was any meaningful consideration given to my job applications. I ended up questioning the ability of New Zealand managers to read/understand international CVs."

– Survey respondent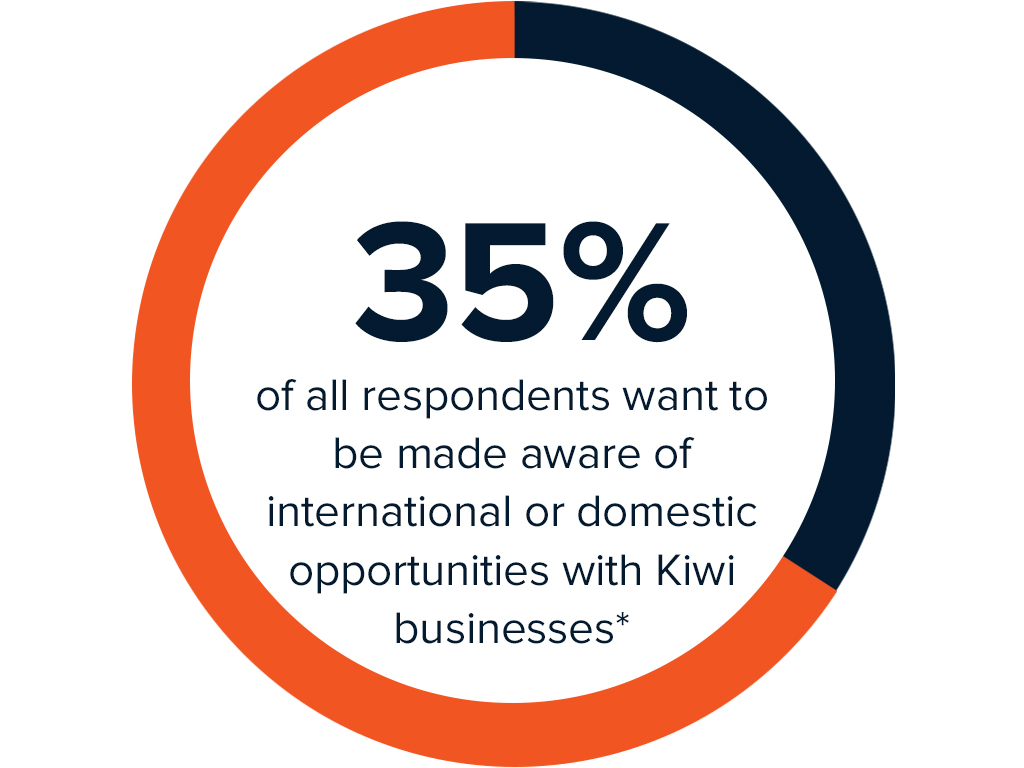 Remote working and flexible working policies were top of mind for those of you searching for a new role and many of you would like to be made aware of Kiwi roles which could be filled remotely from overseas. We will continue to try and connect offshore and returning Kiwi with talent via our jobs platform.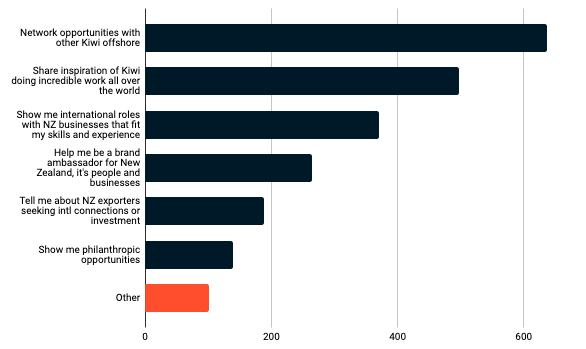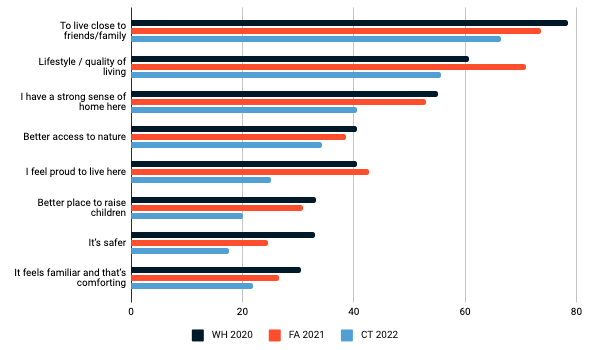 It was interesting to hear why some Kiwi chose to remain offshore while others are planning to return home. For the third year in a row we saw family and lifestyle come through as the biggest reason to return to New Zealand and we understand that the cost of living and house prices are difficult challenges to overcome.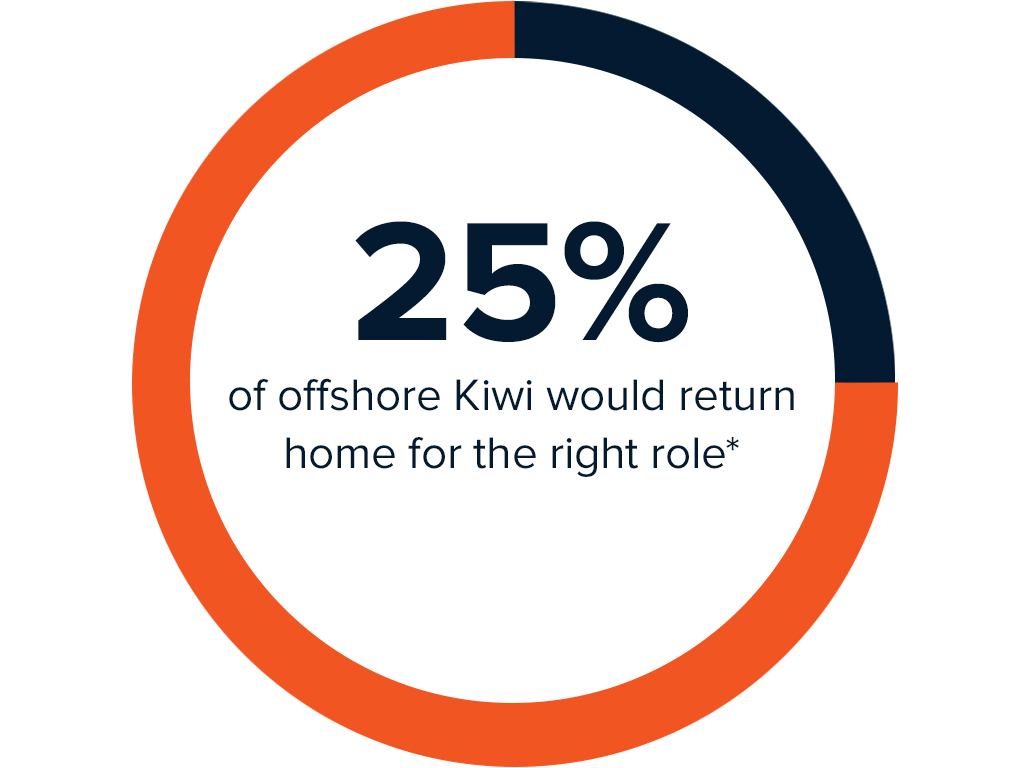 The biggest appetite for Kiwi to return home comes after 3-4 years offshore. The timeframe has remained consistent over the last two years however at the beginning of 2020 the peak was earlier at 1-2 years offshore time. This timeframe is likely to be affected by external factors such as Covid lockdowns, visas, working holiday caps and how entrenched people's lives have become in their country of choice. No matter where in the world Kiwi travel to – for the majority of you New Zealand is still considered home. This doesn't change the longer you are offshore although some of you did share that while you would like to return to New Zealand, having grand children, spouses or spouses families overseas meant you would find it hard to leave. A quarter of you would, however return home for the right job.
"My children and grandchildren live in the USA. If it weren't for them, I'd love to return to New Zealand."

– Survey respondent
"I think we need to encourage the notion that Kiwis are a team of 6 million and even though some of us work abroad, we are still connected in so many ways, concerned about our home country and wanting to be involved in different ways."

– Survey respondent
After three years of restrictions and lockdowns offshore Kiwi are embracing networking once more, with respondents naming connection opportunities as the key way to stay connected.
Returning home has become a longer term plan for many of you. The feeling of urgency to return indicated by respondents in Kea's two recent surveys, Welcome Home [Nov 2020] and Future Aspirations [July 2021] appears to have abated. Kiwi have a renewed confidence in being able to secure flights, enter and leave the country without barriers means relocation plans are more fluid and timeframes to return have relaxed.
Returning Kiwi are also settling down in areas outside the main regions, with 18.4% are taking the plunge to move somewhere new. Auckland shows the largest negative value as a favoured location for returners, with Nelson, Wellington and Otago close top favoured choices.
Kea's community returning to New Zealand bring with them extensive and valuable offshore experience – 77.4% are coming home with more than 10 years experience living and working offshore under their belts. Plus people are returning with experience in key sectors where New Zealand is facing skill shortages including tech, healthcare and the services industries. Ensuring these Kiwi are welcomed, valued and supported with the right resources will prove incredibly worthwhile for businesses.
We received more than two and a half thousand responses to our survey and we would like to thank everyone who took the time to answer. Our offshore Kiwi community is a powerful resource for New Zealand and we appreciate your support of Kea.
Our Exploring Kiwi survey (EK) targeted Kiwi leaving New Zealand and was in-market from May to October 2022 and our Changing Trends survey (CT) targeted Kiwi living offshore and those who had returned to New Zealand and was in-market from August to October 2022. We would like to thank our global community for sharing their thoughts with us.
To help New Zealand businesses better connect with offshore and returning Kiwi, Kea has published our latest report 'Talent for the taking – How to globalise your recruitment strategies.'
This report is based on insights from our surveys and is available to purchase here.