August Update from Kea
Tēnā koutou,
This past month has been a big one for Kea with the celebration of our 2022 World Class New Zealand Awards. We appreciated so many of you joining us at Shed 10 in Auckland to celebrate our global community. For those of you who were unable to make it, the full recording of the night is available here.
You can read more about this year's winners and watch their acceptance speeches and view the media coverage of each of them here. This year's winners were a unique group of Kiwi who represented a variety of different backgrounds, ethnicities, ages and sectors. The one thing they all have in common is the way they are leading and shaping industries, lifting New Zealand's profile on the world stage, giving back to their communities and using the unique power of connection to light the way for more exploring Kiwi.
Looking ahead to September and Kea is delighted to be supporting our partner Deel at their New Zealand launch in two weeks' time. Our partnership with Deel allows Kea to help support more businesses to engage with offshore Kiwi talent from home and provides an opportunity for our global Kiwi community to help fill skill shortages, especially in areas like the technology sector.
Finally this month I am pleased to report that Kea has seen a big jump in businesses looking to connect with offshore markets. This month we have assisted 52 businesses to make a total of almost 200 connections. With travel becoming significantly easier we expect this demand to continue as Kiwi companies reconnect with the world.
Noho ora mai,
Toni Truslove
Kea Global CEO.
---

---
Meet our 2022 Kea World Class New Zealand Award winners
In 2022 we celebrated the theme of connection. As a nation of explorers and exporters, connection to the world has always been crucial to our success. Our 2022 award winners were chosen by our judging panel as members of the World Class network who have demonstrated the unique power of Kiwi connection and used it to the benefit of all of Aotearoa. Read their inspiring stories and watch videos of their work here. READ MORE
---
---
INSIGHTS FROM OUR GLOBAL COMMUNITY
---

North America
Images of New Zealand are all over New York right now as an extensive PR campaign launches to prepare people for the first direct flights to the city. Our North America Regional Director Gary Fortune looks at how the city is embracing the desire to travel once more and what benefits this new era will bring for both the country and Kiwi businesses. READ MORE

China
The 8th New Zealand China Business Summit has recently been held in Auckland. The summit focused on the tremendous development in economic and trade cooperation since the establishment of diplomatic relations 50 years ago. Our China Regional Director, Rebecca Bao looks at the key takeaways for businesses. READ MORE

UK and Europe
Kiwi companies in the UK are getting creative with their hiring strategies as businesses all around the world compete for the best talent. Our UK and Europe Regional Director Sara Fogarty looks at how some of our offshore New Zealand companies are offering incentives such as free flights to try and attract travelling Kiwi talent. READ MORE

New Zealand
For businesses planning to export to Australia, New Zealand Story commissioned a country perception research study to understand the opportunities offered to Kiwi exporters. Our Global Director Government and Industry Saya Wahrlich looks at some of the perception shifts which have been highlighted and what they mean for entry into the market. READ MORE
---
---
52
Number of Kiwi businesses assisted
193
Number of connections made
245
Number of connections made year to date*
BUSINESSES ASSISTED MADE IN MARKET THIS MONTH**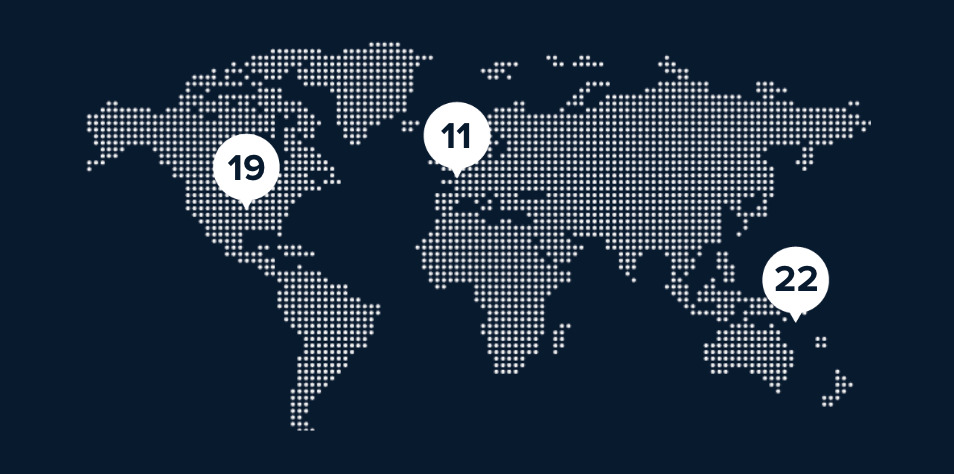 SECTORS KEA CONNECT SUPPORTED THIS MONTH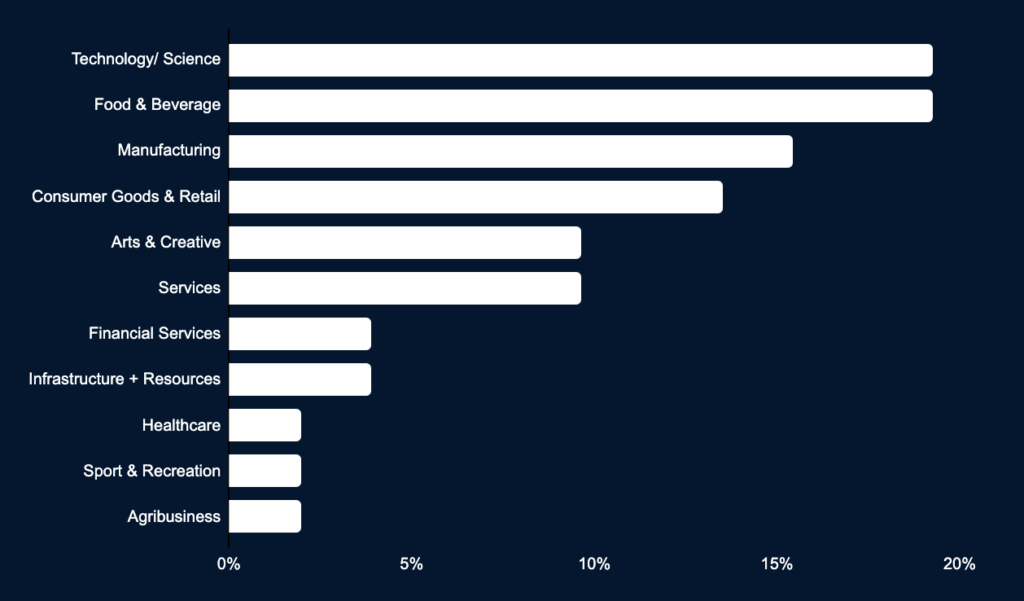 *Year to date reflects financial year commencing 1 July 2022 to 30 June 2023
**Some businesses were provided with connections in more than one market
---
GROWTH THROUGH KEA CONNECT
Each month Kea Connect helps Kiwi businesses grow by connecting them with Kiwi experts in markets all around the world. Here is an example of two businesses we helped this month.
---
Artisan forest honey eyes global market
Hunter and Gather Bee Co. is award-winning artisan forest, honey. The company doesn't heat treat their honey, so it retains all of its natural properties, including loads of helpful micro-organisms. They are looking to expand to the UK market.
Kea was able to introduce Hunter and Gather Bee Co. to an experienced business consultant and sales representative in London, as well as a co-founder of a chain bakery and founder of a gummy supplement brand who provided useful advice and insights into the F&B industry in the UK and beyond. The Founder says 'Those introductions were hugely helpful and allowed me to make a lot of progress and provided opportunities for other possibilities.'
Elite Kiwi training system expands into the US
Exerfly Sport was founded in 2016 and uses patented flywheel technology to help athletes and sports teams train. The company uses over 95% of New Zealand suppliers and has worked extensively with initially High Performance Sport New Zealand, The Canterbury Crusaders, New Zealand Cricket and AUT to prove their durable and innovative equipment produces great results. They help NZ athletes and coaches gain the extra percentage when it comes to training.
The company is now looking to expand into the US market and Kea has connected them with a business consultancy company, the Global Insights Director of a famous New Zealand fitness brand in the US, the Customer Service Specialist of Canada at an international bike brand and Co-Founder and Chairman at a Basketball association.
---
---
Can global Kiwi provide the key to skill shortages?
The pandemic has changed the way we view working, and this shift provides an incredible opportunity for our Kiwi businesses to utilise the experience of our offshore community. It offers a solution to address skill shortages in our workforce while also utilising an offshore perspective to increase productivity and innovation for businesses. So could Kea's partnership with Deel benefit your business? Find out today. READ MORE
Protecting your business against a high inflation environment
Inflation pressures are a challenge facing businesses all over the world and for those here in New Zealand, it's no exception. So what can you do to best position your business to weather the storm? We spoke to BNZ's Head of Export Business Development, Jason Reeves and Senior Partner Mark Henry to answer some of your most common questions. READ MORE
---
---

Secrets to a successful remote working culture
"We've been able to get amazing talent and that talent is also diverse but you have to do the work." Kiwi startup Auror is a SaaS company which empowers the retail community to prevent crime, reduce loss, and make stores safer. Auror has seen huge growth over the past few years and has embraced a borderless workforce in order to ensure they can compete for the best talent. They talk to us about what they've learned along the way and how they keep their people feeling connected in a remote working environment. READ MORE
Sustainable businesses thriving in NZ's capital
Surrounded by nature and fuelled by creative energy, Wellington has always been closely connected to people and the environment. We look at three Kiwi businesses creating positive change for Aotearoa through their sustainable business practices. So if you're looking to work for or launch a sustainable company, could the capital be for you? READ MORE
---

Making millions of mini mountain bikers
From a young age, Dan Necklen always had a passion for mountain biking – a passion he was keen to share with his kids. However, allowing the whole family to go mountain biking together proved a challenge, when Dan couldn't find the right type of seat for his youngest son to ride in. After some searching, he decided to take matters into his own hands and almost by accident stumbled upon the recipe for a globally successful business. READ MORE
---
---
WORLD CLASS SPEAKER SERIES: In our latest World Class New Zealand speaker series Helen Klisser During talks about how the art world is using technology to create a stronger future. Listen to her discuss the importance of curating communities and how "arts can trigger a conversation". LISTEN NOW
KEA MEETUPS: Our next meetup will be held in Auckland on October the 5th, at The Chatham, 27 Drake Street from 17.30. If you know a Kiwi business owner, entrepreneur or recently returned Kiwi please encourage them to come along and expand their networks. These meetups are also a great opportunity for our Kea partners to meet members of our community. SIGN UP
---