October Update from Kea
Tēnā koutou,
September has been another strong month of connections with 47 Kiwi businesses seeking help from our community in offshore markets. With Christmas just around the corner, it's perhaps not surprising that 40% of these businesses fell into the Food and Beverage and Consumer Goods and Retail sectors.
One of Kea's focuses for this quarter is on understanding the effects the past three years of unprecedented change has had on our offshore community. Has their connection to Aotearoa New Zealand, their plans to return or their views changed? The survey is now available to be filled out by any overseas Kiwi, and we ask you to please support this important initiative by sharing this link and including it in your own communications. We look forward to presenting the results to you at the end of November.
Finally this month we bring you the story of Kiwi tech company Parkable who came to Kea Connect looking to connect with Kiwi who could give them feedback on their platform from a US perspective. That connection helped to launch their platform in America and in turn get noticed by Meta. Please see below to read their incredible story.
Ngā manaakitanga,
Toni Truslove
Kea Global CEO.
---
---
"You have to knock on the big doors to get the big prizes"
Parkable CEO Toby Littin shares his advice on startups, scaling and scoring the big contracts. Plus find out how the Kiwi tech company almost missed out on signing a deal with US tech giant Meta because they were convinced the company's attempts to get in touch were nothing more than spam. READ MORE
---
---
INSIGHTS FROM OUR GLOBAL COMMUNITY
---

North America
This month Kea has been working with NZTE Investment to host a group of top NZ investment fund managers on an immersion program throughout the US. It started with two packed days in New York and was greatly enriched by a number of connections from within our Kea community. Our North America Regional Director Gary Fortune has all the highlights. READ MORE

China
It's been a busy month in China with the celebration of The Mid-Autumn Festival. Celebrations provided welcome relief from the pandemic, but Covid continues to have a big impact on travel both within and to and from the country. The discovery of the first case of monkey pox has added further disruptions. China Regional Director Rebecca Bao looks at what businesses need to know. READ MORE

UK and Europe
The UK is shrouded in uncertainty amid the death of the Queen, the arrival of the new Prime Minister, Liz Truss, and an economy in flux. High inflation, fuelled by rising energy bills, has prompted rising fears of a recession this winter Our UK and Europe Regional Director Sara Fogarty looks at what this could mean for Kiwi businesses going forward. READ MORE

New Zealand
Jacinda Ardern has put a spotlight on climate change, mis- and disinformation, and online extremism at the UN assembly in New York this month, taking part in the launch of a new initiative to support the creation of new technology to understand the impacts of algorithms on people's online experiences. Global Director Government and Industry Saya Wahrlich explains. READ MORE
---
---
47
Number of Kiwi businesses assisted
119
Number of connections made
337
Number of connections made year to date*
BUSINESSES ASSISTED MADE IN MARKET THIS MONTH**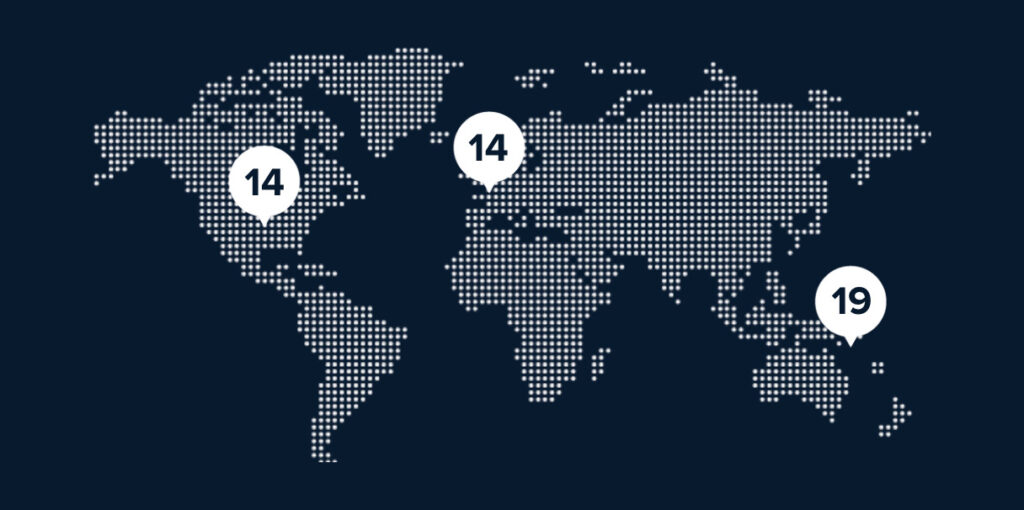 SECTORS KEA CONNECT SUPPORTED THIS MONTH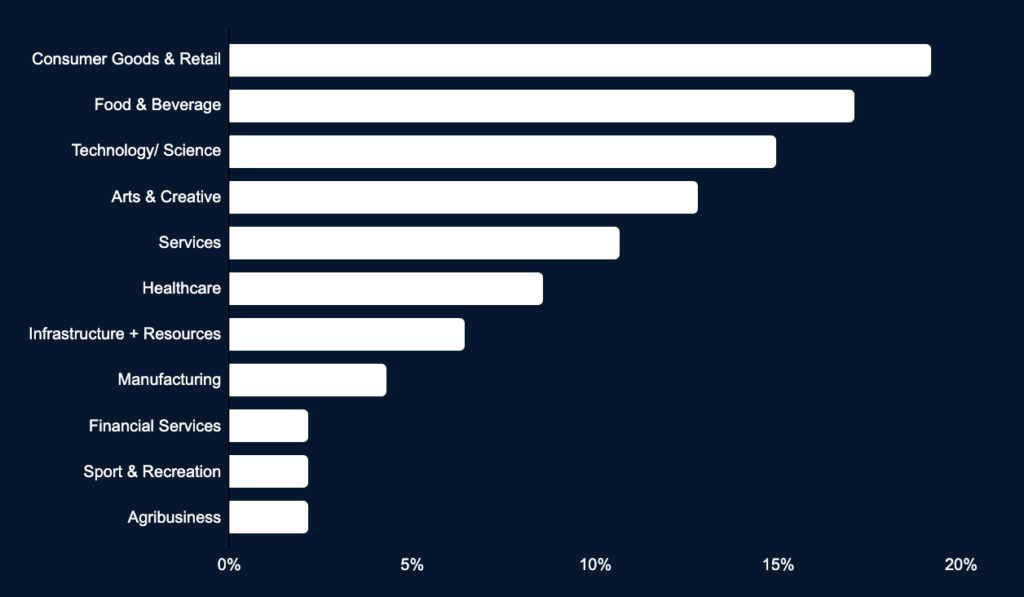 *Year to date reflects financial year commencing 1 July 2022 to 30 June 2023
**Some businesses were provided with connections in more than one market
---
GROWTH THROUGH KEA CONNECT
Each month Kea Connect helps Kiwi businesses grow by connecting them with Kiwi experts in markets all around the world. Here is an example of two businesses we helped this month.
---
New Zealand innovation takes e-bike market by storm
Hybrid Bikes is an award-winning carbon fibre e-bike design company, based in Nelson. Founded in 2018 the brand has been featured on various news platforms and magazines. The unique IP of the carbon fibre frames, the price point and the way the frames can be turned into eight different e-bike styles from road, gravel, mountain and all-terrain bikes, set them apart from their competitors.
Hybrid Bikes is exploring the potential to enter the global market and came to Kea seeking advice and insights. Kea connected them with several people including a Board Member in the fitness supplier industry, a New Zealand global fitness business, a customer service specialist of a bike manufacturer in Canada and a CEO of another bike exporter from NZ who is also a Kea customer.
Kiwi company aims to create efficient energy everywhere
Founded in 2006, Shape Energy (formerly known as Nukor) is a leading provider of essential services to businesses and industries. Their services include Compressed Gas Systems, Power Generation, Energy Storage and UPS solutions and Renewable Energies. They are passionate about making New Zealand a world leader in efficiency and alternative energy.
The CEO of Shape sought the opportunity to meet experts in the tech and energy sectors during a recent trip to the US. Kea was able to introduce him to a senior member of an energy company, Snr Director, Product Marketing at a comm- infrastructure virtualisation company and a geographer who has worked for utilities, governments and transportation organisations through the capture of imagery, point clouds and GIS feature extraction.
---
---
Going Global – with Rachel Taulelei
Kea World Class New Zealander Rachel Taulelei, is a strong advocate for the Māori economy and sustainability, and her connection to her Māoritanga has been vital in her career – from founding sustainable fishery Yellow Brick Road to being CEO of the food and beverage company Kono. Now at the helm of Oho, an Aotearoa business design and brand strategy firm, Rachel joins Simon and Brianne in this webinar to spill her secrets to global success. LISTEN
Let's be ambitious, let's be aspirational
"There is so much we could be doing as a country if we were better at harnessing and celebrating all the talent that we have here. We might be small, but there's no reason we can't dream big." World Class New Zealand Award winner Anna Fifield shares her experiences on returning to New Zealand and explains why she wants Kiwi to think bigger. READ MORE
---
---

From Olympic glory to grassroots growth
Two time Olympic medalist and World Rowing Champion Rebecca Scown is giving others the opportunity to hopefully one day follow in her footsteps. The offshore Kiwi has recently taken on the role of CEO of Youth Experience Sport (YES) a charity which is focused on helping disadvantaged kids find belonging and acceptance in sport. She talks to us about flying the Kiwi flag on the world stage and how this next chapter in her life is challenging her in different ways. READ MORE

New Zealand awash with tech opportunities
Sure we might not have as much data as the big UK or USA retailers but the New Zealand culture is so empowering that the opportunities it creates are as exciting as anything happening in other markets around the world." Maz Kassis talks about his move to NZ and why after a global career in data and analytics he's so excited about the future of our tech industry. READ MORE
---
Meet our new Israel Ambassador
Kea's new Israel Ambassador Josh Brown is a self confessed entrepreneur with an interest in finance and technology. Based in Te Aviv he's partnered with Kea to help grow the Kiwi network in Israel and tells us why he thinks the two countries could leverage a shared network. READ MORE
---
---
WORLD CLASS SPEAKER SERIES: In our most recent World Class New Zealand speaker series we spoke to David Skilling. David is the founding Director of Landfall Strategy Group, an advisory firm that provides advice and insights on global economic, policy, and political dynamics to governments, firms, and financial institutions. David discussed the economic and political trends he's seeing in New Zealand and globally, the ongoing impact of the Ukraine conflict, and his insights for the future of our global economies. If you missed the webinar catch up here. LISTEN
KEA MEETUPS: Our next meetup will be held in Auckland on November 2nd, at The Chatham, 27 Drake Street from 17.00. If you know a Kiwi business owner, entrepreneur or recently returned Kiwi please encourage them to come along and expand their networks. These meetups are also a great opportunity for our Kea partners to meet members of our community. SIGN UP
---