The mountain less travelled
I find climbing a mountain helps give a sense of perspective, so on my last day in Segovia as part of a month-long poetry fellowship, I set off up to the 2019m high Reventón Pass. There is a road winding steeply up from the town of La Granja de San Idelfonso—where you can wander the gardens of the royal palace based on those of Versailles and visit the royal glass factory—and it is pretty easy going, sharing the path with cows that you hope aren't bulls eyeing you with their sharp horns, until you reach a dry-stone wall just above the tree-line and a stony path meanders alongside it right to the top. From there you have stunning views over the province of Madrid to
the south and back to Castilla and León in the north.
On my way down I say 'buenas tardes' to a couple resting by a stone hut and overhearing them chatting in English I go back and say hi. They'd been walking the Guadarrama mountain chain for five days, most of it in fog having caught the tail of hurricane Leslie, which hit the first night just as they'd got completely lost and had to sleep out on the mountain getting soaked to the skin. I think they appreciated having someone to tell their story to as we enjoyed the afternoon sun and a vulture circled lazily over to see if we were moving. I felt a twinge of jealousy at their adventure but this is only a day-trip from where I live in Madrid so I can easily return.
Some tips. If you are following a map use a compass and don't rely too much on the signs along the way, or just stick to the main paths. There are fresh springs along the path where you can fill water bottles but beware of the summer when temperatures are in the 40s and in winter the mountains are under snow. On weekends and bank holidays lots of people visit La Granja and restaurant menus can double in price (and you'll be lucky to get a table if you don't have a reservation), so it's best go during the week if you want the mountain to yourself or a delicious lunch in a quiet restaurant.
In the footsteps of a Spanish poet
I took the above photo from near the 12-sided Romanesque Vera Cruz church looking towards the walled city of Segovia, the cathedral rising above everything from the main square.
I often ask myself, quietly amazed, how I came to be here: A Kiwi lad from Nelson driving up the M3 into the London night, cycling around the Brittany coast or Grenoble mountains, wading through flooded streets in Venice, having a painting shown in the Saatchi Gallery in London, being passed the guitar at 2am in La Soleá in Madrid by the house guitarist while he took a break and having to accompany two gentlemen from Cordoba and Seville singing flamenco soleares, or standing in front of a room full of poets in Madrid reciting my poem Cosecha (Harvest) for the first time in Spanish, about picking sweet corn.
It was flamenco guitar and my interest in Spanish artists like Velázquez and Goya that drew me here, along with wanting to experience a different culture and language from what I was used to. Before my trip I looked up in 'Who's Who in New Zealand' artists with connections to Spain and came across Darcey Lange, who I saw perform in Auckland, and Robert Ellis, with whom I spent a lovely afternoon in his studio sharing flamenco guitar falsetas and talking painting during my last trip back in 2001. Finding other Kiwis who had come here before me made it a little less daunting.
And then last year I was awarded the III Antonio Machado Poetry Fellowship of Segovia and Soria, finding inspiration in both cities to write poems and do projects in the community. During my month in Segovia I imagined Machado after a morning's teaching French, in the corner classroom which now bears his name at the IES Mariano Quintanilla, walking through the arches of the spectacular Roman aqueduct and up into the city, stopping maybe at the Union Cafe. Perhaps he would meet with a friend or wander down to the tree-lined Eresma River before returning to his room near the main square in a humble pensión, which is now kept as a museum.
So getting back to that sense of wonder, as an artist and migrant I often question how I got here and where I'm headed. This poem by Machado from his collection Campos de Castilla is addressed to wanderers and I think it is a beautiful reflection on this question.

XXIX

Traveller, your steps
Are the path, and no more;
Traveller, there is no path,
The path is made by walking.
By walking the path is made,
And looking back
One sees the route that
One will never tread again.
Traveller, there is no path,
Only a wake widening on the water.
Not the first Kiwi in Covaleda
When I visited the Manuela Peña Primary School in Covaleda, everyone told me I was the second Kiwi they'd met because the previous year they'd had a placement teacher from New Zealand. It was a nice surprise because for most Spanish people I'm the first Kiwi they've met. The town of Covaleda in the province of Soria is not particularly attractive and is small with around 1700 inhabitants but I was there to do a 'Poetry Walk' with the pupils and a few minutes walk from the school we were in the countryside and the teachers had organised a two-hour hike up and down hills and along the Eresma river with beautiful pine forests and views of snow-capped mountains. It was frosty and misty as we set off but the kids were the first up the hills and I thought how lucky they were to have this landscape on their doorstep.
The photo above was one of six places where the kids had to find a hidden poem to read out to the rest of the group. At the end of the walk they wrote short poems in groups with words they had chosen along the way inspired by their surroundings. Covaleda is close to the Laguna Negra (Black Lagoon), which inspired one of Machado's longest poems. I was lucky to have friends in Soria who drove me there and to other places like La Fuentona, a natural spring with crystal clear water and amazing emerald colours, and Calatañazor, a medieval town where Orson Welles
filmed Falstaff.
A couple of hours walk along the Duero River from Soria are the archaeological remains of the pre-Roman town known as Numancia. The guided tour (in Spanish) is excellent—with stories of elephants being used disastrously by the Romans to attack the town—but there was a freezing wind blowing across the hilltop and to get down to the village below to warm up with a coffee in a local bar and ask the locals which restaurant was best for lunch.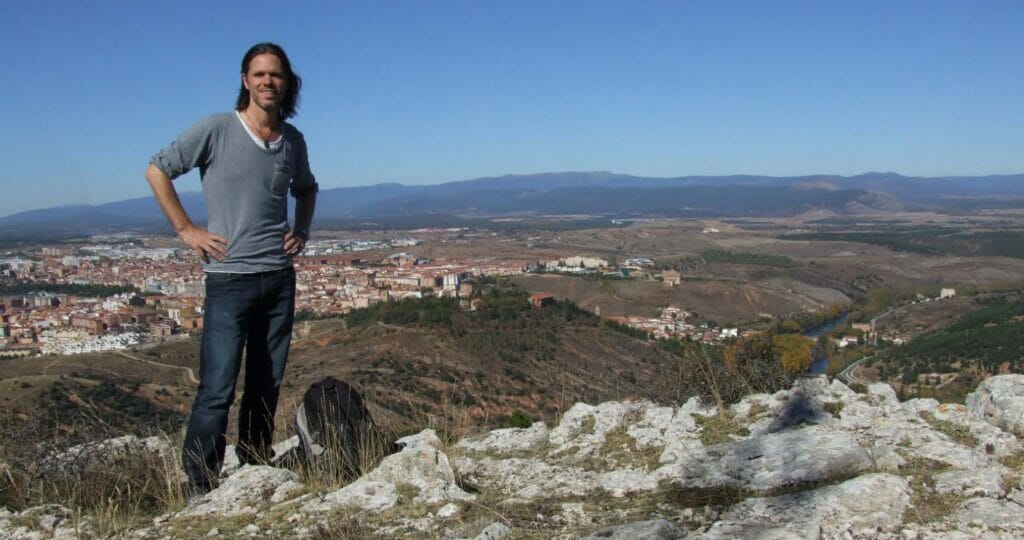 Learning Te Reo Māori in Spain
I left New Zealand when my mother, Marion Olsen, received grants to study singing in London. We planned to go for two years and I remember that strong longing of homesickness in those first few years. Occasional quick phone calls or weekly airmail letters were how we kept in touch with those back home. Coming to Spain had its own challenges, as I didn't speak any Spanish. I did a TEFL course in Madrid and found work teaching English, which is a great exercise for any writer. I picked up the language from Spanish friends and my flamenco guitar classes, although it took me a few years to really get the hang of it. One of the benefits of learning Spanish is that being a phonetic language it makes the pronunciation of Māori much easier and so last year I found the Tōku Reo video series online based on the Te Whanake language programme of the late Professor John Moorfield and have just worked through the first 100 videos. Ngā mihi nui.
So am I still homesick? I feel at home in Spain, but I don't want to loose touch with my roots and am looking at ways to visit, but in the meantime I have found small ways to connect such as the video series I made 'Poetry on the Terrace' where fellow Kiwi Anna Borrie and I introduce New Zealand poets to a Spanish-speaking audience, or running the 'Given Words' competition for Phantom Billstickers National Poetry Day the last four years.
Final thoughts
I feel very fortunate with the experiences I've had so far and I'm always surprised by where following my passions have led me. I hope this inspire you to perhaps get off the beaten track and find new stories, learn from other cultures, and perhaps find new ways of connecting with your own roots.
Charles Olsen
Charles Olsen is an artist and poet living in Madrid, Spain. With the Colombian writer Lilián Pallares he runs the audiovisual production company antenablue. He has published two collections of his poems in bilingual editions, Sr Citizen (2011) and Antípodas (2016). His poems are included in the forthcoming collection More of Us, Landing Press (Wellington), he has written essays for the forthcoming The Poetics of Poetry Film, Intellect Books (Bristol), and his poetry film Morning's fishing will be published in the Atticus Review. He has work published in Moving Poems, blackmail press, Landfall and the New Zealand Poetry Yearbook, including his translations of Spanish and Colombian poets.
http://charlesolsen.es/
https://www.instagram.com/colsenart/
https://www.facebook.com/charles.olsen.art
https://twitter.com/Charles_Olsen
http://www.antenablue.com/
https://nzgivenwords.blogspot.co.nz/