Piha Pies: Home Away From Home
When you're on the other side of the world, sometimes all you need is a slice of home, and nothing beats the humble Kiwi pie. We spoke to Jeremy Hewson, who, along with his wife Susanne founded Piha Pies, the Kiwi pie company using an old family recipe that's taking London by storm! Recent recipients of 'best newcomer' at the British Pie Awards, Jeremy discusses their journey, personal favourites, and what's next for Piha Pies…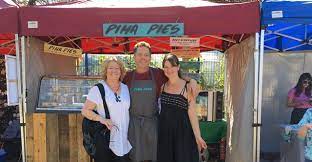 How did Piha Pies come about?
I'm from Auckland and moved to the UK in 1991 as a young cameraman and I'm now a Director of Photography working for all the channels including the BBC, C4 and most recently Netflix.
As a Kiwi, I always wondered why you couldn't get a decent pie in the UK like the ones in NZ. So after many years of talking about it, in 2018 my wife Susanne and I took the plunge and started a little side business making pies from our converted outbuilding in Forest Hill. Then in September that year, we set up our first market stall at Norwood Feast market in South London – and quickly followed up with other markets, pop-ups and events.
We called named it Piha Pies after my favourite beach on the west coast near Auckland, where I spent a lot of time in my teens, and it's where I return to every time I'm home and I always grab a pie or two from The Piha Store.
The pies were baked on old family recipes. What's the story behind that?
This is quite a story. I always enjoyed cooking and when I was younger and it was a toss up whether to go into cooking or into TV work. TV work won out and cooking was put on the back burner. Then about 6 years ago I found out a huge family secret. On a Christmas visit back to Auckland, my mum and dad sat me down and told me that I had in fact been adopted and that my birth mother wanted to get in touch with me. Although this was a massive shock, there was a silver lining…..
3 months later, after the dust settled I decided to find out who my birth mother was, so I tentatively picked up the phone and asked the adoption agency my mother's name. I immediately googled her and up popped a newspaper article about Maryellen, the owner of a well renowned cafe in Kohu Kohu, Northland – famous for its pies.
Many months later after many email exchanges, getting to know each other and bonding over pie talk and a general love of food and cooking, we met up in NZ. I showed her photos of my childhood and got to sample some of her famous pies, which were laid out for my welcome. Talk turned to my dream of having a pie shop in London one day and plans were hatched to be taught some of Maryellen's recipes. So, about a year later when she eventually visited me and Susanne in London, she taught me the family pie recipes. All the recipes were in Maryellen's head, nothing was written down. We spent the next year practising her recipes, perfecting our own recipes and testing them out on family, friends and neighbours.
For our first market, Maryellen and my new-found sister Kate, also a great pie maker, happened to be over from New Zealand. They were able to give helpful advice and were like a lucky charm because the 100 pies sold out and Piha Pies got really positive feedback.
Do you attract mainly homesick Kiwi customers?
There are always lots of Kiwi customers at the pie stall but it is mostly Brits. What is incredible though is the number of British pie eaters coming back across the market to tell us they are the best pies they've ever had – which proves the power and draw of the Kiwi pie.
Since lockdown, we have started doing delivery of our pies – and there is a huge proportion of Kiwi buyers looking for comfort food from home.
Are there any particular moments that stand out in your journey?
It was an incredible moment to find out that we had won Best Newcomer in the British Pie Awards this year on top of a few other awards.
But the thing that really ignited our journey was the revelation that after all the years of talking about opening a pie shop my biological mother was already a professional pie maker and she was able to give such invaluable advice on how to start a food business.
Do you have a personal favourite pie?
We love them all and it's hard to choose which is a favourite. It depends on what mood you're in but if we had to choose, mine would be Pepper Steak and Susanne's is Potato Top.
What are your plans for the future?
We want to expand the business so we can start supplying other businesses – we've had lots of requests from Delis, Butchers and Cafes to supply them with our pies. We would love to eventually start selling them in high end food stores and supermarkets so Kiwis and Brits across the UK can get hold of them easily. So we will be looking for investment to move into a bigger kitchen and start employing a team to upscale our output and distribution.