March Update from Kea
Tēnā koutou katoa,
March was a busy one for Kea with an incredible 46 businesses assisted, and 168 connections made. Top countries where businesses were looking for help were the US, the UK and Australia. This month's numbers bring Kea's overall YTD connections to 1207, which is a fantastic result and well above our annual target.
This month we were also pleased to launch our latest community survey. Kea's surveys are an important way to gather insights from our global Kiwi community which allows New Zealand to stay connected with, and learn from different markets around the world. The current survey asks our community to share their thoughts on how the rising cost of living is affecting their future plans and gives them the opportunity to share the ways in which the country they are living in is tackling the current economic environment. We would be incredibly grateful if you could share the below link to the survey and encourage your international Kiwi networks to fill it out. It takes around 15 minutes to complete and we look forward to sharing the results with you in June.
Ngā mihi,
Toni Truslove
Kea Global CEO
---
---
Trevor Mallard's Irish ties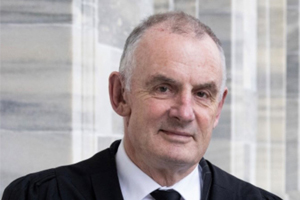 Former speaker of the house Trevor Mallard has taken up a new role as the New Zealand Ambassador to Ireland. He spoke to Kea about the opportunities and learnings the Emerald Isle can offer New Zealand and why he's keen to promote cultural and family ties between the two countries, plus he shares his own family ties that have made his relocation much easier. Read more
---
---
INSIGHTS FROM OUR GLOBAL COMMUNITY
---

North America
In March the big news was the collapse of Silicon Valley Bank (SVB) and Signature Bank, with authorities moving quickly to stabilise things. North America Regional Director Gary Fortune, looks at what this means for Kiwi tech businesses and what effect it could have on consumer confidence in the US. READ MORE

UK and Europe
In March Kiwi in the UK and New Zealand have been celebrating changes to the Youth Mobility visa, UK/Europe Regional Director, Sara Fogarty looks at what it will mean for those Kiwi looking to travel to the UK and for Kiwi businesses looking to hire staff in key industries. READ MORE

China
Last month China fully reopened visa systems to foreign visitors, including tourists. This follows more than three years of border restrictions. China Regional Director Rebecca Bao looks at the effect this is having on visitor numbers and how the relaxing of restrictions is seeing in person events increase once more. READ MORE

New Zealand
The Government has been focused on Cyclone Gabrielle recovery and the rising cost of living. A second tranche of Government programmes has been stopped or slowed to deliver $1 billion in savings which will be reallocated to support New Zealanders. Kea Global Chief Operating Officer Saya Wahrlich looks at the key points of these two pieces of work and the impact they will have for Kiwi businesses. READ MORE
---
---
46
Number of Kiwi businesses assisted
168
Number of connections made
1207
Number of connections made year to date*
BUSINESSES ASSISTED MADE IN MARKET THIS MONTH**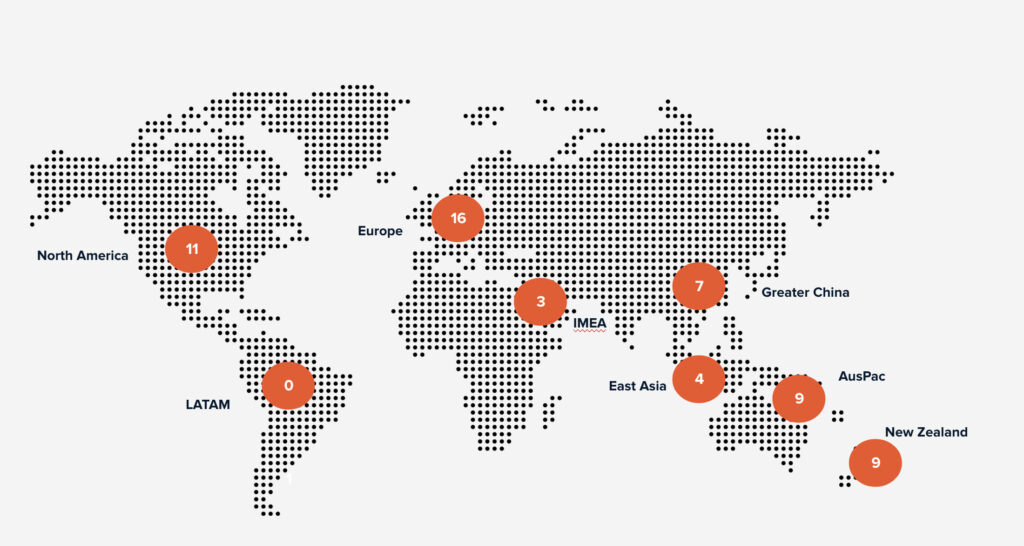 SECTORS KEA CONNECT SUPPORTED THIS MONTH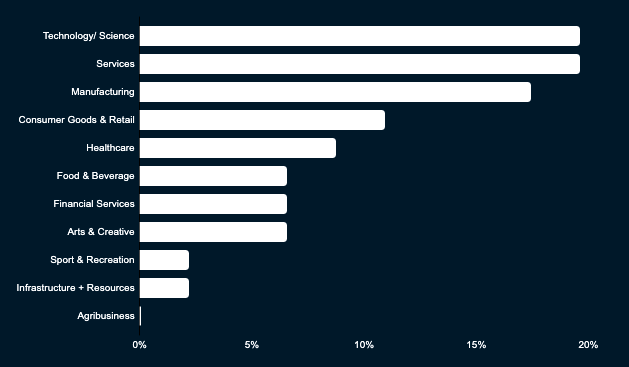 *Year to date reflects financial year commencing 1 July 2022 to 30 June 2023
**Some businesses were provided with connections in more than one market
---
GROWTH THROUGH KEA CONNECT
Each month Kea Connect helps Kiwi businesses grow by connecting them with Kiwi experts in markets all around the world. Here is an example of two businesses we helped this month.
---
Kiwi healthcare business eyes US market
Orion Health offers software to public and private healthcare providers from integration through to population health management and precision medicine. The company's CFO's has recently relocated to the US and is interested in connections with those in the population health and insurance industries. Kea introduced Orion Health to the chief scientific officer and co-founder of an international healthtech company, the director of a global health organisation and the advisor of enterprise information from a not-for-profit health organisation in the US.
Cyber security company searching for connections in Australia
Quasar Scan is a cardholder data discovery software product. It's used to scan an organisation's entire technology environment to identify locations of unprotected credit card information. The company is looking to accelerate its growth internationally as a scalable product and seeking connections with IT/Cybersecurity professionals in Australia. Kea was able to link Quasar Scan with the founder & CEO of a cyber security company that builds resiliency in high-growth tech companies in Sydney.
---
---
DLA Piper in top spots for inspiratia 2022 rankings
DLA Piper has been ranked in the top three law firms advising on completed renewable energy and infrastructure deals for both deal count and transaction value in 2022. The ranking is compiled by inspiratia, a leading provider of global analysis and data in the new energy and infrastructure sectors. READ MORE
Investment opportunities in aquaculture – NZTE webinar
Join NZTE on 13 April (9am NZDT) for an exploration of investment opportunities in aquaculture with Hatch Innovation Services. Carsten Krome, managing partner and co-founder of Hatch Blue, will provide an overview of how venture capital investing works in the industry and discuss when and how – as well as the do's and don'ts – of raising money. SIGN UP
---
---

Bottling the Kiwi export spirit
In the early 1960s a group of seven New Zealand's pioneering winemakers set about distilling a brandy they hoped would rival French cognacs. Kea caught up with the guardian of 7Cellars brandy, Nick Nobilo, to find out why it's time to share this piece of our early export spirit with Kiwi around the world. READ MORE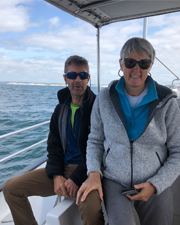 ---
Taking to the seas
Listen to Kea's latest World Class New Zealand speaker series, where we hear from Kiwi couple, Veronica Lysaght and Nigel Jollands, who are sailing home to Aotearoa from the UK on an incredible two year journey to promote climate change action and learn from 50 communities along the way. LISTEN
---

Building a community in a
foreign country
Olivia and her Kiwi husband James moved to New Zealand at the end of 2021. Since arriving they've experienced lockdowns, unprecedented rain, flooding and cyclones. Olivia discusses expat life, what's surprised her most about moving to New Zealand and the challenges which partners of Kiwi returners face when trying to find their place in a foreign country. READ MORE
---
---
WEBINAR: Modern Entrepreneurship – Brought to you by the University of Auckland, Connect and Develop is a series of virtual development talks for professionals and students thinking about success factors in today's and tomorrow's workplace. Whether you are pushing the status quo within a company or aspiring to start a business, get tips to help you grow and succeed as a modern entrepreneur. SIGN UP
WEBINAR: Climate change leadership from a fossil fuel CEO – Join former Z Energy CEO Mike Bennetts to examine the challenge of balancing stakeholder needs with the pressing concern of climate change. Hosted by Boma CEO and World Class New Zealand award winner Kaila Colbin, this free webinar opens the floor for discussion on "walking in a world of paradox" – and what it means for the change we aim to create. SIGN UP
---