Bottling the Kiwi export spirit
When you think of Brandy, it's probably the Southwest of France not New Zealand that springs to mind. But in the 1960's a group of visionary Kiwi winemakers lobbied the Government to grant them a licence to conduct experiments to see whether New Zealand's wine industry could successfully produce quality brandy from locally grown grapes. Ultimately distilling brandy in New Zealand wasn't deemed commercially successful, but what was left was a unique one off batch which received even the French seal of approval. For the next forty years that brandy would live in oak barrels, slowly becoming a piece of New Zealand's wine making history. Kea caught up with community member and caretaker of 7Cellars brandy, Nick Nobilo, to find out more about this early example of global thinking and export mentality and discover why he's decided it's time to share this memorabilia with Kiwi around the world.
In the early 1960's New Zealand's export wine industry was still in its infancy and far from the globally renowned market that it is today. There were far fewer vineyards and far less technology but plenty of global thinking. Not just satisfied with making fortified wine or sherry, which were the most popular options at the time, a group of New Zealand's original growers came together to discuss whether they could distil New Zealand grapes and create a Kiwi brandy which would rival the French cognacs.
This group of seven men included Josip Babich who became known as one of the grandfathers of the New Zealand wine industry, Nikola Delegat the founder of Delegat wines and Nikola Nobilo one of the pioneers of New Zealand Sauvignon Blanc. After being granted one of several licences given out by the Government at the time, each of the seven growers contributed grapes which had been grown in areas of high clay content, a trait which is recognised as a key component for quality brandy. This group became known as 'The Seven Men of the 7Cellars' and would meet regularly to review progress, evaluate samples and contribute their own expertise and experience. Their aim was to create brandy that would be recognised as world class.
The brandy was in fact deemed world class in terms of taste and quality with the Government of the day sending samples to France and receiving positive feedback, however the commercial viability of distilling brandy in New Zealand was ultimately not successful, and most of the growers who had been granted licences used turned the experimental brandy back into other things such as fortified wine. However the Seven Men decided to hold onto their batch and it was put into brand new French Limousin oak barrels, the same barrels that are used in Cognac, where it sat for the next forty years.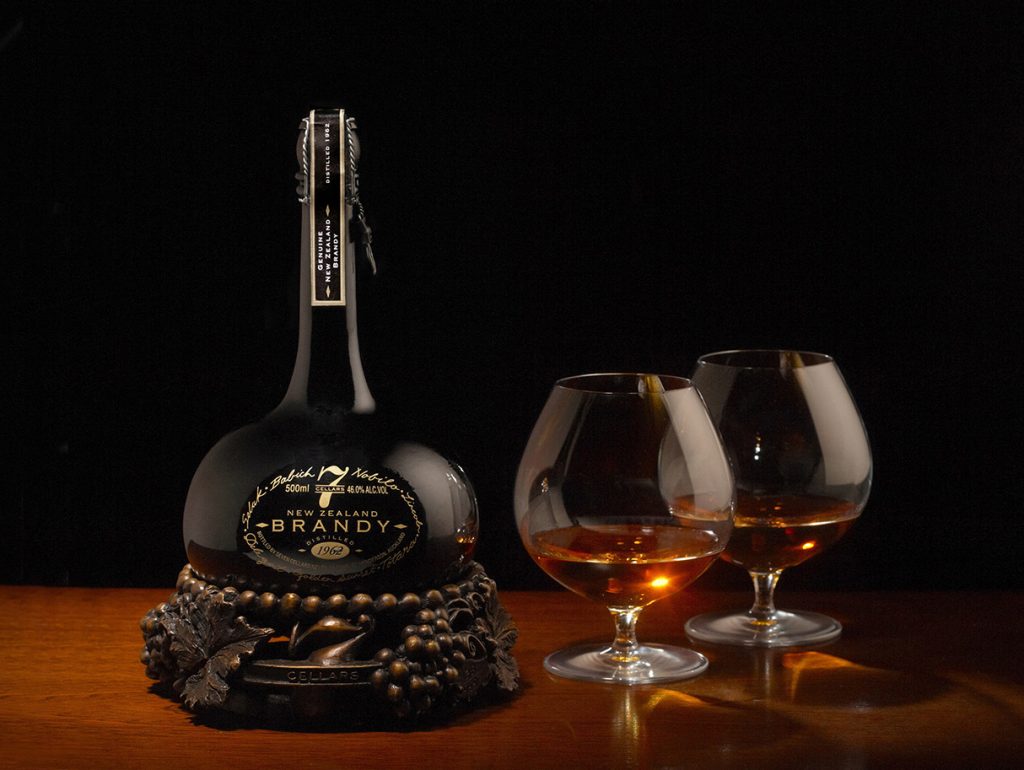 Today New Zealand's wine industry is a 2 billion dollar global market and the Seven Men of 7Cellars are no longer with us. However their legacy and innovation lives on. In the late nineties the brandy was blended and left to sit for another three years and then in 2002 it was bottled by the current curator, Nick Nobilo, the son of Nikola who was a teenager at the time of the experiment.
"I was straight out of school, but I knew I wanted to be involved in the wine industry. This was a big project for my father and I was very keen to see what the outcome was going to be for all of the seven. For me it was also a learning curve, it really showed me that the future of the industry lay in innovation and experimentation."
After accounting for the 'angels share' the amount of liquid which is lost as the brandy ages, Nick was left with 502 bottles of this one off Kiwi brandy – one of which has been donated to Te Papa museum. He also commissioned a Kiwi bronze sculptor to create a base for the bottles to sit on. Each bottle has its own authentication certificate and Nick is in the process of setting up a registry so individual bottles can be accounted for long after he has gone.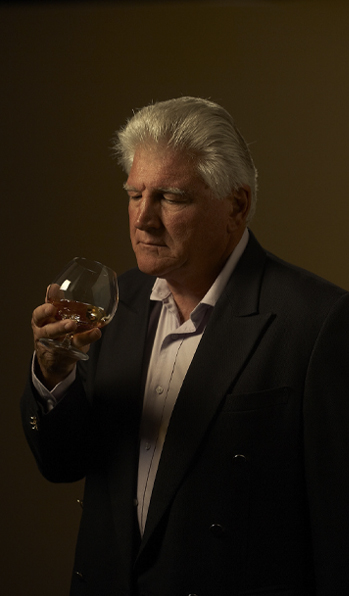 "For me it's really about preserving the legacy of the Seven Men. This group was ahead of their time when it came to innovation and global thinking. In a way this brandy is a time capsule of New Zealand's winemaking legacy. It shows the innovation and the dedication of those pioneers to create something that was equivalent to the best in the world. These bottles are a connection to that history."
After sixty years Nick says it's time to share that connection and legacy with Kiwi all around the world, and has decided to offer the bottles up to those looking to invest.
"This brandy is unique, it's arguably some of the rarest brandy in the world and it's been judged in the top 5% of brandy internationally in terms of flavour and complexity. This is not a brandy you drink, it's a brandy you invest in because there are a limited number of bottles and it will continue to increase in value. These bottles can be purchased by anyone but ultimately we would love them to go to Kiwi around the world who want to own a part of this unique history and who will really value that connection back to New Zealand and want to pass it on through the generations."
Nick says he believes the Seven Men of 7Cellars would be thrilled to share their legacy with Kiwi around the world and would be amazed by how much New Zealand's wine industry as a whole has changed and evolved.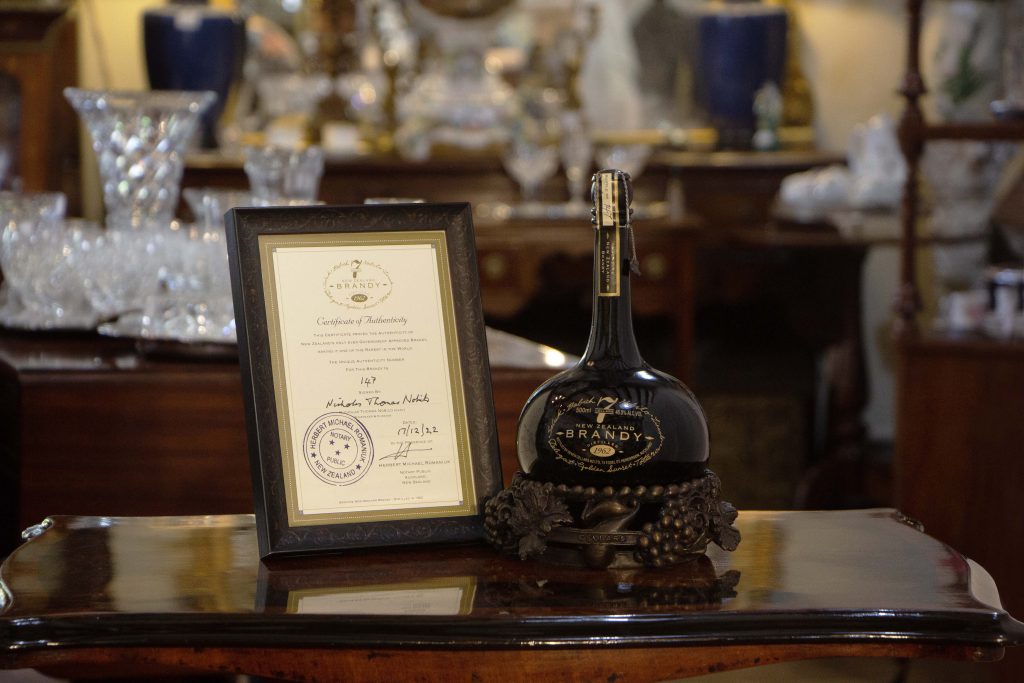 "These men were instrumental in the early evolution of our wine industry and their work has been carried on by the generations that followed them. I think if they could see the way the wine industry has turned into a major export market for New Zealand they would be really proud. This group of men were a fantastic example of how Kiwi can come together to share global skills and knowledge and think big and I know they would be thrilled that their legacy will live on through this brandy."
The opportunity to invest in this piece of Kiwi history is being offered exclusively to our World Class and Kea global community, the brandy has not yet been marketed to the public, although a number of bottles have been purchased by those associated with the project. You can discover more about the brandy and invest by visiting the 7Cellars website
The article has been created as part of a content partnership between Kea and 7Cellars.