Fizzing with success
The birth of Wellington drinks company Six Barrel Soda wasn't an idea that exploded out of nowhere, nor did its co-founder Joe Slater take the 'traditional route' to becoming an entrepreneur. Despite this the beverage company has just celebrated its 10th birthday and is currently sold in five markets, where it has well and truly found its niche alongside some of the world's biggest brands.
Many people will be able to identify with the early journey of Six Barrel Soda Co-founder Joe Slater. After graduating with a BA from Victoria University, the Wellington born Kiwi left New Zealand for the traditional OE, and like many young Kiwi explorers took a job in the hospitality industry first in Australia and later in London and then Paris. 
"I was working predominantly as a cocktail bartender in France when my long time friend and now business partner Mike Stewart, got in touch with a business proposal he was keen to partner with me on. I decided it sounded like a good idea and subsequently packed up and headed home to New Zealand."
That particular business proposal never actually got off the ground, but Joe says it wasn't long until the two came up with another idea – this time to open a cafe in one of Wellington's most popular areas.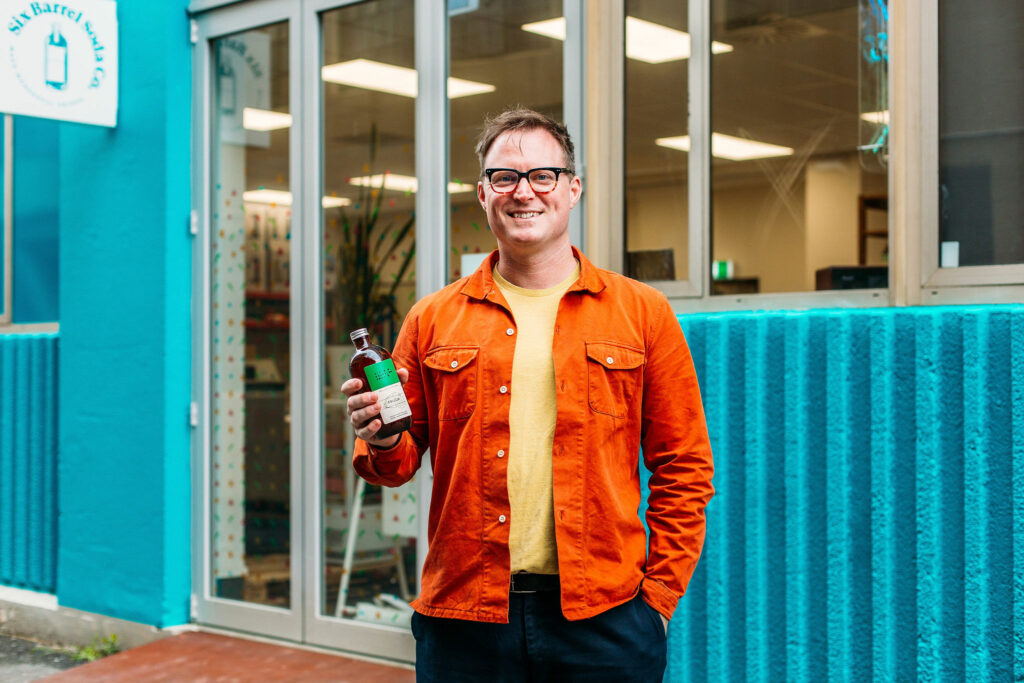 "We opened a little cafe run out of a caravan, which at the time was a pretty out there idea. We had some tables and chairs and a bunch of plants. It was actually really cool. We ran that for a few years before opening Monterey, which is our bar and diner in Newtown. It was there that the idea for Six Barrel Soda was born."
Using his offshore experience as a cocktail bartender Joe had been experimenting with a bunch of different syrups and concentrates for Monterey customers and began thinking about how they could expand on the idea.
"Mike and I thought this is actually a really interesting way for people to make drinks without lots of unhealthy ingredients and that was the start of Six Barrel. We refined the process and decided to focus on a soda, for us it was about offering an alternative that's better for you."
The idea originally started as a soda shop with products people could take home and over the past decade has grown into the syrup and carbonated soda company that they are today.
For some people taking on a market that is dominated by global giants like Coca-Cola and Frucor might be intimidating, but Joe says Six Barrel has always found success in focusing on what they do best rather than what their competitors are doing.
"I don't think anyone needs to take over the whole market. I mean, the market is big enough for 100 companies to be huge, you know? We are not trying to take on Coke and what we do is not a direct swap, It's a different kind of thing. We've got a really good business we're proud of and it's more about challenging ourselves rather than comparing ourselves to our competition. Just because something works for another company it doesn't mean it will work for us. It's better for both your sanity and focus if you concentrate on what you do best, not what others are doing."
"The big way we differentiate ourselves is that we are a syrup company. Plus we have always been really experimental with our flavours which also helps set us apart."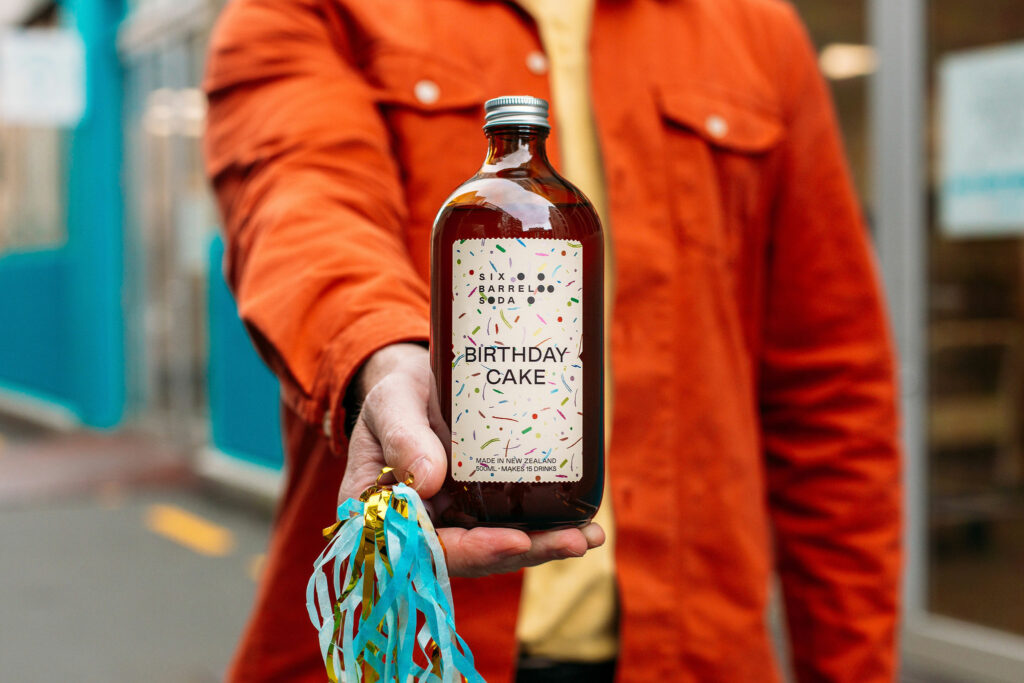 Reflecting on the past decade, Joe says the business has achieved a lot of its goals – even if they didn't necessarily make a hard and fast list.
"I think a lot of the things we have achieved were goals, even if they weren't necessarily written down as such. That's things like having a good team around us, working reasonable hours and getting paid properly, having a dedicated kind of production space and having opportunities with collaboration partners and export partners."
During their decade of growth they have seen huge changes to the non-alcoholic beverage market and part of the company's ability to grow has come from being adaptable.
"I think if someone tried to launch an alcohol free gin in 2012, they would have been laughed out of the shop. But nowadays there are so many available. Things are always changing. Our flavours have also adapted, in the beginning we were quite American like, whereas today we are a premium New Zealand brand with an identity that reflects that. For example we have a Kiwi fruit and Kawa Kawa soda coming out soon, we do feijoa and other Kiwiana flavours."
While it hasn't always been plain sailing Joe says the key to staying sticking around is to trust the process and keep trying.
"We've definitely tried a lot of things along the way that didn't work, but at the same time, we keep coming up with new ideas and keep hunting out new opportunities with people and brands, so it's really about having the faith that things will work out."
His advice to those starting out is to be selective and focus on a few things at a time rather than trying to do everything.
"We've definitely got a lot better at not just immediately leaping into every idea. Sometimes when people talk about success they talk about staff numbers or how many markers they're in. But if you've got 100 staff and your business is a mess, it doesn't really matter. It's the same with markets, we're in five countries at the moment, two of them are pretty little and just starting and two of them are kind of focused ones and one could be good. So I think not overstretching yourself is key"
Another piece of advice would be to really think about the money you need. We've always financed the company ourselves, that's something I'm quite keen on. Every now and then we meet people who are just starting and they say 'we're going to raise all this capital and it's going to be great. And I'm like, that's cool but what are you going to spend all that money on? and they say, 'oh I don't know yet.' In the early years you only want to raise and spend what you really need to or else you create a whole other set of problems."
While Joe and Mike may not have written down many short term business goals they do have a definite long term one, and Joe says it's one that's really important to him.
"I really just want to create a legacy business. something that is going to be around for 100 years, whether or not we own it or not. To create something really enduring, that would be the biggest achievement of all."
Joe is one of Kea's many 'solvers' – Globally experienced Kiwi who are keen to provide in-market advice and insight to other Kiwi businesses through our free Kea Connect service. If you'd like to speak to Joe or any of our other solvers then get in touch with Kea Connect today