February Update from Kea
Tēnā koutou katoa,
Welcome to our February update. This month we would like to share with you our 2022 Kea Connect Retrospective report. This report outlines the phenomenal impact our Kea Connect service has on New Zealand's MSME community and the amazing contribution our global Kea community has made to businesses over the past 12 months. During this period we helped 407 Kiwi businesses with their export journey and collectively our global community donated more than 350 hours of advice, insights and guidance. I would like to take this opportunity to thank all of you for your support of this invaluable service. We look forward to growing these numbers even further in 2023.
This week Kea celebrated International Women's Day – speaking to five Kiwi just starting out in their careers to find out what they think about equality in the workplace and what changes they would like to see in their lifetimes. Their responses to the questions posed to them gives me a lot of hope for the future of New Zealand businesses and our female leaders. We also caught up with Phil Goff as he takes on his new role as New Zealand High Commissioner to the United Kingdom to talk about the increasing opportunities for trade between Aotearoa and the UK once the FTA comes into force. You can read both these stories in full below.
Ngā mihi,
Toni Truslove
Kea Global CEO
---
---
Kea Connect 2022 Retrospective report
Join us in reflecting on a year of Kiwi helping Kiwi via Kea Connect. In 2022 Kea Connect connected more than 400 businesses to almost 700 offshore Kiwi to provide free in-market advice and insights. This valuable information helped our export business community make key decisions and grow their businesses. We hope you enjoy the insights, case studies and global perspectives contained in this report and we would like to offer a huge thank you to everyone who continues to support our Kea Connect service. Read more
---
---
INSIGHTS FROM OUR GLOBAL COMMUNITY
---

North America
The US economy is continuing to twist and turn post Covid. The good news is that economic commentators are now offering a more positive outlook around a possible recession. Our US Regional Director Gary Fortune has the latest details for those looking to engage with customers in market. READ MORE

UK and Europe
This month's earthquakes in Turkey and Syria have been dominating headlines across the UK and Europe. Our UK/Europe Regional Director Sara Fogarty looks at how the Kiwi expat community is supporting those affected by the disaster and what effects this tragedy will have on those doing business in the region. READ MORE

China
With the lifting of the zero-covid strategy, the 7-day Chinese New Year break resulted in a huge lift in domestic consumption. 308 million domestic tourism trips were made during this period, an increase of 23.1% year-on-year. Our China Regional Director Rebecca Bao looks at how China's economy is faring as the country returns to normality. READ MORE

New Zealand
In February the Government has been busy dealing with the destructive weather which affected many parts of the country destroying homes and businesses and leaving many cut off. Our Global Director Government and Industry Saya Wahrlich looks at some of the measures which have been put in place to help people affected by recent events. READ MORE
---
---
36
Number of Kiwi businesses assisted
94
Number of connections made
1034
Number of connections made year to date*
BUSINESSES ASSISTED MADE IN MARKET THIS MONTH**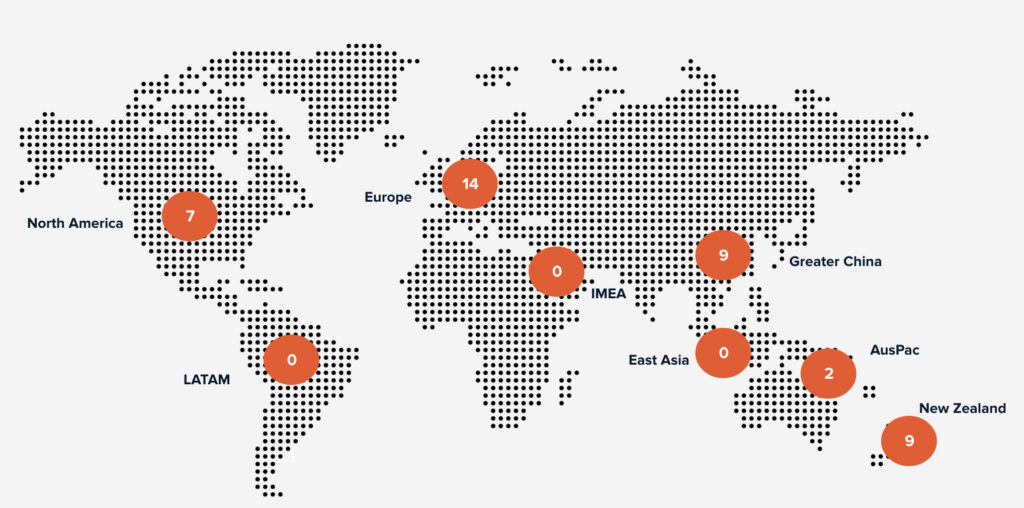 SECTORS KEA CONNECT SUPPORTED THIS MONTH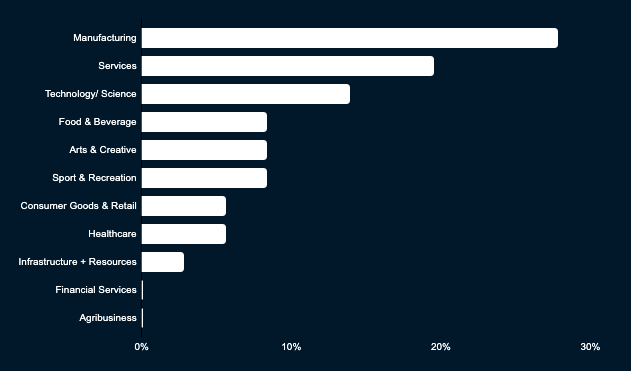 *Year to date reflects financial year commencing 1 July 2022 to 30 June 2023
**Some businesses were provided with connections in more than one market
---
GROWTH THROUGH KEA CONNECT
Each month Kea Connect helps Kiwi businesses grow by connecting them with Kiwi experts in markets all around the world. Here is an example of two businesses we helped this month.
---
Sustainable supply chains a big focus for Kiwi business
Platform8 is focused on helping companies optimise their supply chains to identify cost savings, meet ESG compliance and offset negative impacts. They are currently in a market testing phase and wanted advice and validation from others working in this area. Kea introduced them to the CEO and Co-founder of a company in a similar space – producing solutions to help companies transition to high value and sustainability, addressing increasing compliance and challenges of a global food supply chain.
Healthcare diagnostics company working to prevent blindness
Toku Eyes is developing a multi-modal artificial intelligence platform for instant healthcare diagnostics . The platform uses retinal images to screen for preventable blindness and cardiovascular disease risks. They are seeking advice on how they might monetise this product and sell it to other partners. Kea connected Toky Eyes to the National Technology Officer at an American multinational technology corporation and also the Executive Councillor at an AI Forum in New Zealand.
---
---
DLA Piper podcast series – UK merger control on wider corporate transactions
DLP Piper London-based competition partner, Alexandra Kamerling, speaks to corporate lawyers Karin Kirschner and Chris Arnold about the impact of UK merger control on wider corporate transactions. This podcast explores the various ways in which merger control concerns are reflected in private and public deals. LISTEN
Flying the Fern
Hear from 24 businesses using their 'Kiwi-ness' to break into offshore markets. New Zealand Story Group's podcast features the tales of successful Kiwi businesses that have achieved international sales success, with a focus on storytelling that embraces country of origin and provenance values. Business profiles include Ecostore, Ārepa, Book Me Bob, Hybrid Bikes, FarmIQ and Trust Codes. LISTEN
---
---

Embracing Equity – Celebrating IWD 2023
To celebrate International Women's Day, Kea spoke to five Kiwi women at the beginning of their careers to see what IWD means to them and where they see the opportunities for positive change in the future. Jane Fasavalu and Nancy Vuni are students at the University of Auckland and part of DLA Piper's Headstart Programme, Ella Dobson is based in New York and is an Associate Creative Director, Hayley Nisbet is a registered nurse in the Paediatric Intensive Care Unit (PICU) at Starship Children's Hospital and Jemma Jackson is a Policy Advisor for the New Zealand High Commission in London. READ MORE

Caretakers of culture
This year Ngāti Rānana the London Māori club celebrates its 65th anniversary. The group regularly performs around Europe and plays an important role in educating offshore communities about tikanga or Māori customary practices and behaviours. We caught up with Ngāti Rānana Kaiāwhina (tutor) and Kea member Ben Appleton to talk about the group's purpose and values and how becoming involved has played an important role in his own cultural journey. READ MORE
---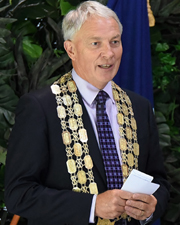 Phil Goff outlines priorities as he steps into new role
After nearly 40 years working as an MP, a Cabinet Minister and most recently as Mayor of Auckland, Phil Goff has just started his new role as New Zealand High Commissioner to the United Kingdom. He spoke to Kea about the business opportunities between the two countries and what he hopes to achieve in his latest post. READ MORE
---
---
World Class New Zealand speaker series – Taking to the seas
World Class New Zealanders Veronica Lysaght and Nigel Jollands are about to embark on a two year journey, sailing in their ice breaker sail boat from Dover, UK to Wellington, New Zealand. Their planned route will see them stop at dozens of islands along the way to work with communities affected by climate change. Join us for our next World Class New Zealand speaker series on Tuesday March 21st to hear Veronica and Nigel talk about how they turned their idea into reality, the challenges they expect to face and how they plan to connect people to the effects of climate change. SIGN UP
Kea Edinburgh meetup If you are aware of any Kiwi in the Edinburgh area please invite them to join us for a coffee on Monday, March 13 at 8.30am.Kea's Global Director, Government & Industry, Saya Wahrlich, will be on hand to talk about Kea and discuss how the network operates to support its members across the world. This is a great opportunity to meet other Kiwi in your area. SIGN UP
---