The inclusive digital revolution
This week the global conversation at Expo 2020 turns to tolerance and inclusivity, and more specifically the inclusive digital revolution. Many of us don't spare a thought when it comes to being connected, but for thousands of Kiwi it's another barrier to navigate. We spoke to five members from our Kea community working to even the playing field.
Annie Lewin is Google's Senior Director of Advocacy and Head of Asia Pacific. She says technology provides an amazing growth engine for businesses, communities and individuals. But it's important to recognise that not everyone has the same access to the opportunities and if we are not careful the most vulnerable parts of our societies are going to be left behind.
"When I think about digital inclusiveness and digital equality I think about the work we can do to ensure everyone has equal access to the kinds of digital skills they need to fully participate in society, to grow and develop their careers and to access government and other businesses services which are increasingly going online"
To help combat this inequality Google supports a range of organisations including the nonprofit SeniorNet. SeniorNet runs a programme that sees older adults signing on to teach their peers about how to use the internet for everyday tasks such as banking, emails, and online safety. During the pandemic and subsequent lockdowns Annie says the service became a key point of connection for many of our older adults.
"We have had a couple of years now where the normal social connections have not been available in the same way. During the lockdowns we heard stories of seniors joining multiple sessions in a day because that was their only touch point with the world. When we talk about digital inclusion I think we often stop at the technology, but as always with these things it's the people behind the technology and what they are doing with it that determines whether we are creating a society that is inclusive and equitable."
The World Economic Forum has named Digital Inequality as a critical threat to the world over the next two years and the seventh most likely long-term risk. There are multiple organisations in New Zealand helping to bridge the digital inequality gap and one of these is RAD or Recycle A Device.
RAD is a nationwide Not For Profit organisation which tracks down donations of old laptops and devices and refurbishes them before donating them to people who would not otherwise have access. Donor Liaison Rebecca Harris says her organisation sees first hand the difference a device can make to not just an individual but a community.
"It's not just giving someone a laptop. That device gives them opportunities, it helps even the playing field and it creates a snowball effect. We had a story recently of a person who was exiting a domestic violence situation and she had three kids and wanted to study online to improve her job choices but she couldn't without a laptop. We gave her one, and that device is going to have a huge effect not just for her but for her ability to provide for her family."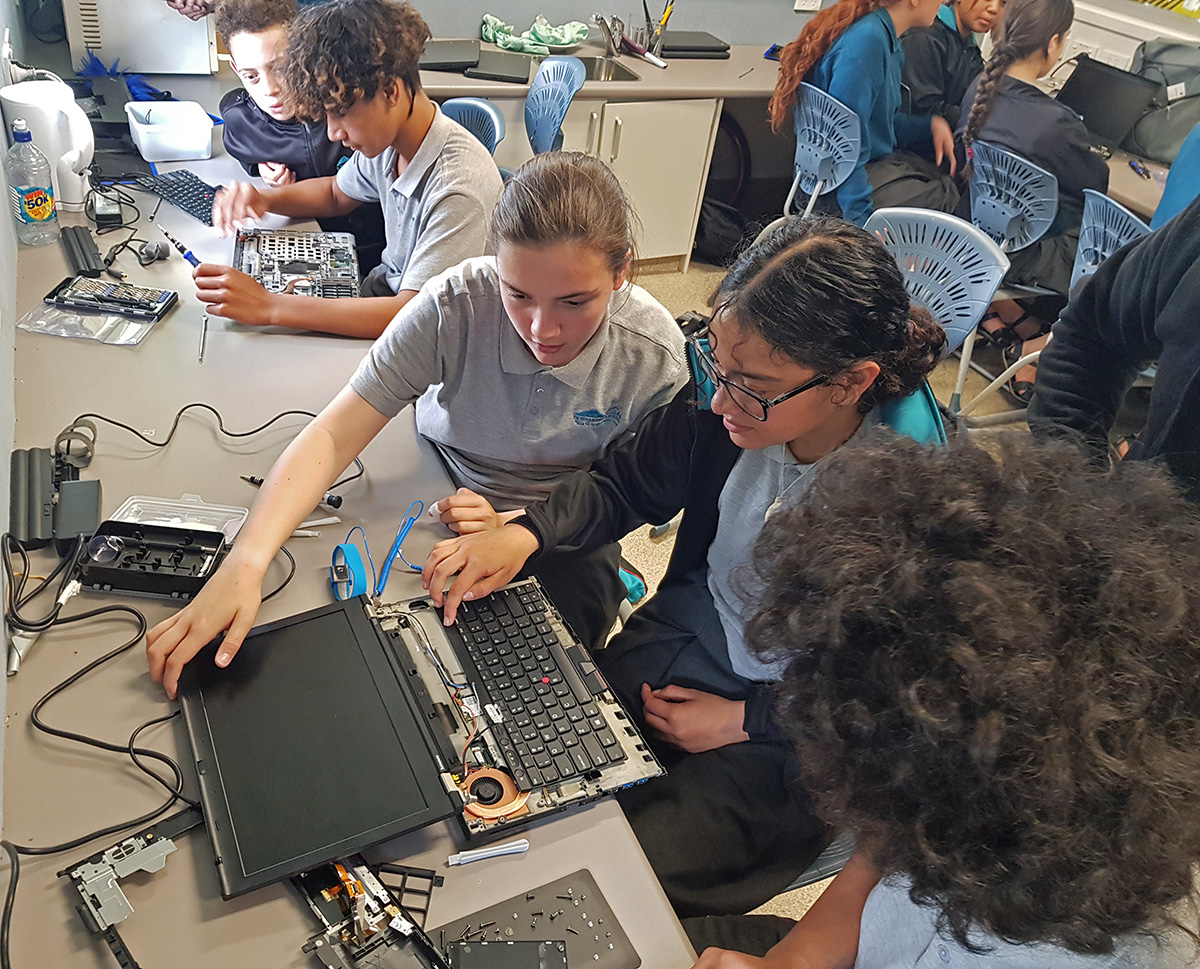 RAD was born out of a school project started by two students at Aotea College that has since been funded and rolled out nationwide. Rebecca says the programme is unique in the sense that it not only supplies devices to communities in need but also works with high schools in those communities to carry out the refurbishment work.
"We collect old devices from businesses and send them to a professional company to make sure they are wiped. Then the two students who started the project, who are now both studying at Otago university, will come in and run a workshop with the schools on how to refurbish them, after that the school will pick up the programme themselves with on-call support from our team and the process continues. Once the laptops are refurbished we work with trusted community groups to make sure they are donated to those who will benefit the most."
Of course being connected is about more than just having a device and South Auckland business owner Peter Elbourne wants to use his charity 'equity in connectivity' to ensure some of our more disadvantaged groups have consistent access to data.
Peter is working on a model which would allow consumers and businesses to donate unused or rollover data to families who can't afford the internet. His aim is to connect 2 million people by 2025.
"When we did some research we found that students would say they had internet access, but actually they were tethering off mum and dad's phone, so mum and dad had to have credit or they had to be home, not at work for kids to go online and do school work and even then the internet only lasted as long as the credit."
Peter says a lot of kids don't want to admit they can't connect to the internet and giving them the opportunity to access the same resources as their peers is important for their feelings of self worth.
"Being connected empowers people. It's like that saying 'when the tide rises all waka rise'. Many of these kids are whakama (embarrassed or ashamed) about their lack of opportunities. They want to have the same opportunities as everyone else. Being digitally connected gives kids access to essential services, it gives them better cultural connectivity. It puts them on that path to a life of engagement with learning."
While the digital divide affects many sectors in Aotearoa one of the most affected groups are Maori and Pacific people. 27 year old Julia Arnott-Neenee is working to change that. She says she co-founded the organisation PeopleForPeople after hearing too many stories of people who simply didn't have access to our largely digital society.
"I heard stories of students sitting outside of McDonald's to access free Wifi; of one device being shared amongst 8 people; of students writing essays on a mobile; of the deep isolation and loneliness of not being connected, and of the inability to access support which moved digital without considering those without access."
Julia says a world where people are left out because of their inability to be part of a constantly evolving digital culture is a dystopian future she doesn't want to see, however she says there are plenty of opportunities for Aotearoa to be part of the solution.
"A lot of levers need to be pulled at different levels to create systems change. What I want to make clear is that the responsibility is NOT solely on the individual. It is fundamentally incorrect to point fingers at communities and say it is their fault they are being excluded. There is a mammoth task to create the change I hope to see and many parties need to be working together to achieve a more equitable and inclusive digital future but it is possible."
New Zealand's opportunities in the digital inclusivity space is something that Kiwi immigrant Arash Tayebi is passionate about. His company Kara Technologies creates avatars which are used to make sign language more accessible for the deaf community, another group which can be left out by a fast evolving digital culture.
He says the secret to creating digital equality lies in the public and private sector making sure they work closely with the communities they are trying to help.
"We have been really privileged to work closely with the deaf community, we have tried to co-design our elements with that community and that's a really differentiating part of our company. How closely the tools have been designed with those who are actually using them.
Arash says that while the pandemic has increased challenges around digital accessibility it has also created opportunities.
"Covid has forced technology to accelerate quickly, and when that's the case it's often for maximum impact, which means the solution focuses on the majority of people. This leads to minority groups being left behind. However I think New Zealand has a great sense of community, we have many communities here and we look after people. We have already been world leaders in a number of areas and the next one could definitely be accessibility."