The pandemic has created a new lexicon, where words and phrases once used infrequently are now part of our everyday vocabulary.
Now in the swing of another 'unprecedented' year, concepts like the 'weightless economy' – driven by information and intellectual property – are increasingly important for the recovery of Tāmaki Makaurau Auckland and New Zealand.
As the region's cultural and economic development agency, we believe Auckland's thriving screen sector – film, television, gaming, visual effects, immersive technologies, digital content and animation – is a solid foundation for us to build on.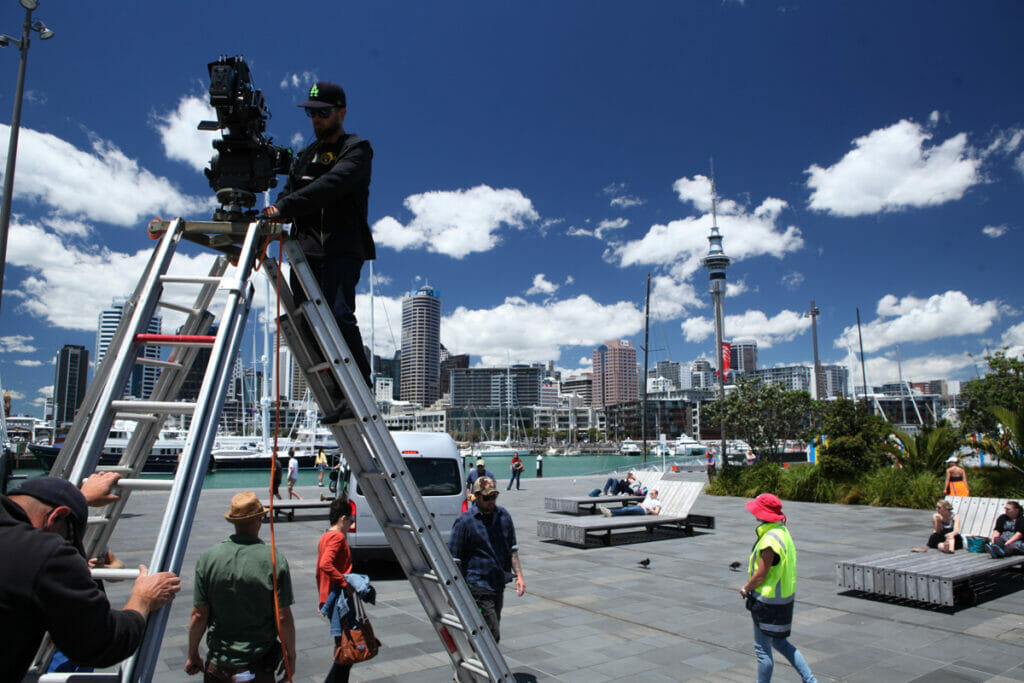 In the year to March 2020, film and television GDP alone topped $1.14 billion for Auckland, employing more than 7500 people in about 1800 businesses – many in the screen heartland of Auckland's west.
In recent years the region has welcomed large-scale international productions including Netflix Originals series Cowboy Bebop, Disney's live action remake of Mulan, the BBC-TVNZ adaptation of Eleanor Catton's 2013 Man Booker Prize winning novel The Luminaries, and the Amazon Prime Video young adult series, The Wilds.
Recent confirmation of a long-term partnership between the New Zealand Government and Amazon Studios around its big-budget television series based on The Lord of the Rings, is more great news for Auckland's booming screen industry.
The production is injecting hundreds of millions into the economy and is already directly and indirectly employing more than a thousand Kiwis in skilled jobs – most of them from Auckland's strong screen talent base – as well as keeping local businesses busy.
Major international productions, traditionally choosing Auckland as a screen destination for our skill and capability, range of facilities, and spectacular and diverse locations, are now looking here for a new reason – New Zealand's successful management of COVID-19.
That's not to say the sector wasn't hit hard by the impact of the initial nationwide lockdown, but collaboration has ensured it bounced back.
Our Screen Auckland team worked with industry partners to develop ways of working safely in a COVID-19 world – including government-approved national guidelines and protocols that enable productions to continue at Alert Levels 2 and 3. This has brought a level of stability to the industry and even resulted in three television series scheduled for Australia moving to Auckland.
While our screen offering has remained strong throughout the pandemic, in Auckland we can do better as a region to embrace the huge benefits the industry brings.
We need to make it easier for productions to film here. Each year, Screen Auckland facilitates more than 600 film permits on behalf of Auckland Council for shoots in all open public spaces.
It's an impressive number – one that's on the rise due to our 'COVID-free' drawcard – but I worry when I hear international productions say it's harder to get a location shoot across the line in Auckland than it is to block off a street in Manhattan.
We address these day-to-day challenges and welcome conversation with council, Auckland Transport, and the region's local boards to improve this process. It was set with best intent and to support our communities, but we need to go further if we are to support an important job creating industry that will help our economic recovery.
When we discuss the potential of our screen sector, the conversation needs to go beyond process and logistics. I believe we need to embrace a regional mindset shift.
We must collectively turn our minds to the opportunities the screen sector provides for the people, businesses, and communities of Tāmaki Makaurau, particularly those hit hardest by the pandemic.
Talent is required for our booming screen sector and it's been good to see large productions taking on people who have lost jobs in hospitality, hotels, retail and tourism.
But even before the pandemic created an increased global demand for content, Auckland's screen sector faced a shortage of skilled workers.
We're working on research with New Zealand Film Commission and Screen Wellington to better understand people's perceptions of working in screen and determine what's needed to get people into a screen career and tackle sector shortages.
Alongside this research we market Auckland as a screen destination to the world, operate three in-demand film studios, and are focused on developing the much-needed additional infrastructure required to keep international productions knocking on our door.
Recovery is a heavy load for the region to bear but the answer lies in part in our weightless economy and in that old saying, 'many hands make light work'.
We need to tap into Auckland's existing strength in screen to seize the opportunities it provides for our people and industry. We all need to champion screen in Auckland, together.
Pam Ford is GM Economic Development at Auckland Unlimited, the region's economic and cultural development agency and home to regional film office, Screen Auckland.
---
HOW KEA CAN HELP YOUR BUSINESS GROW