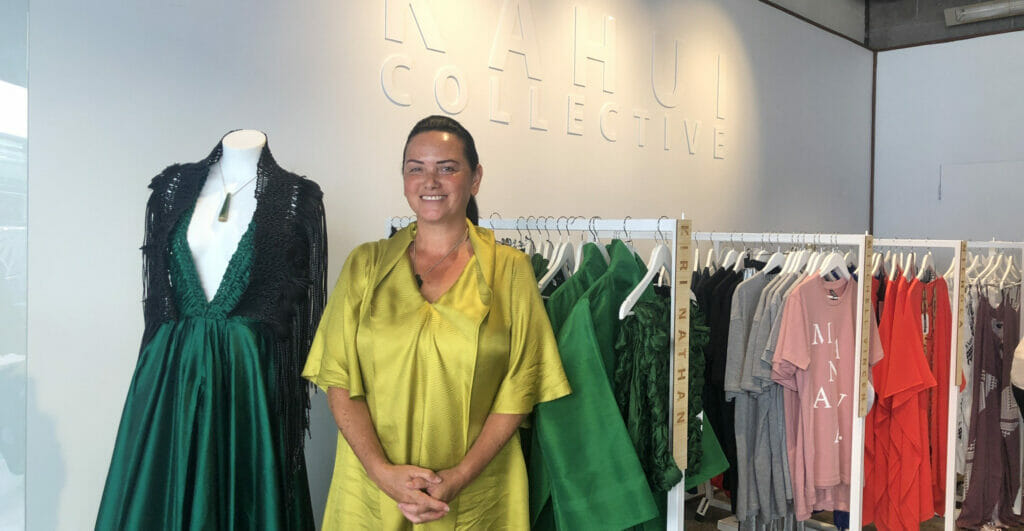 What's your story? How did you get to be where you are today?
Perseverance and an incredibly loyal and supportive tribe.
Why do you think it's so important to bring Māori art and culture to a wider audience?
I think it's imperative that you stand in your own truth, that you draw from everything that makes you, you. In my case, that is being Māori, a wāhine, a māmā and wife, a friend and a creative. The reach has evolved very organically and although I understand the importance of numbers and a wider audience, the most important thing is that we are adhering to the responsibilities we have when sharing our culture.
Where do you pull inspiration from when creating?
From Te Āo Māori, nature, natural fabrics and texture.
How was the Kāhui Collective formed and why?
I formed the Kāhui Collective in 2017 to help four Māori fashion designers grow their businesses and source fabrics. There was a need and no one was helping to bridge or support that need, so I figured someone should start.
Since that first Hīkoi (trip), the designers I took up have ventured to China by themselves and created business relationships. Last year (2019) I took 15 Māori creatives to China, visiting 5 different cities and we met with high-level industry organisations and individuals.
The focus was to see where Māori fashion could or would sit within the bustling markets of China and how we would navigate the logistics, means to market, scale, commercialisation and within all of this maintain our cultural integrity.
What does this latest collection mean to you?
I was invited to participate in the Thai silk fashion week, an initiative of the queen of Thailand for the revitalisation and sustainability of the ancient art of handwoven Thai silk. I was completely in awe of these beautiful weavers and to witness a traditional practice that was financially contributing directly back into the villages and people. I purchased some silk whilst there and created a very clean collection with textured handwoven accessories. In effect, I hand wove the handwoven fabric. It reveals a combination of Thai weaving and Māori weaving, tradition, contemporary execution and cultural crossovers.
What was it like seeing your design on the Oscars red carpet?
I was mostly in total admiration of Chelsea! She was so happy and I could see she felt confident and beautiful. That made my heart sing. It was a wonderful moment that will be treasured always.
How has the response been to the pop up in Britomart?
I can't even deal with how incredible it feels to witness people walking in the store beaming with pride that this tiny little department store exists! The joy, excitement and will to support and buy Māori made is overwhelming. There have been so many conversations and connections. I feel so very humbled by the entire experience and so very proud of the Kāhui designers.
What's next?
We have three more weeks to test the market in Britomart, track what's working and what needs attention. We're full steam ahead with the Kāhui Collective in conjunction with New Zealand Trade and Enterprise, which will see us export primarily into China, secondarily into the US. We plan to show at Shanghai Fashion Week in October and there are conversations around New York Fashion Week this year. Most importantly we need to build a strong foundation here in New Zealand first, so the Britomart store is the perfect segue into affirming a permanent presence in the New Zealand fashion scene.

Check out The Kāhui Collective.
---
HOW KEA CAN HELP YOUR BUSINESS GROW