Sweet dreams are made of cheese
In 2004 Alice Shopland adopted a vegan lifestyle and in 2006 she started importing vegan cheese from the UK. For several years she and her husband Colin Woods struggled to develop their own vegan cheese recipe. But today Alice's dream of seeing their product sit on mainstream supermarket shelves has been realised. She spoke to Kea about her incredible journey and why it pays to sometimes put everything on the line.
Alice Shopland learnt the hard way that deciding to make vegan cheese and actually making it are two very different things. Despite this, the pioneer of New Zealand's vegan cheese market has never taken her eyes off the prize. Last year her company 'Angel Food' produced 150 tonnes of dairy-free cheese, which can be found on the shelves of big supermarkets and in fast food outlets across the country.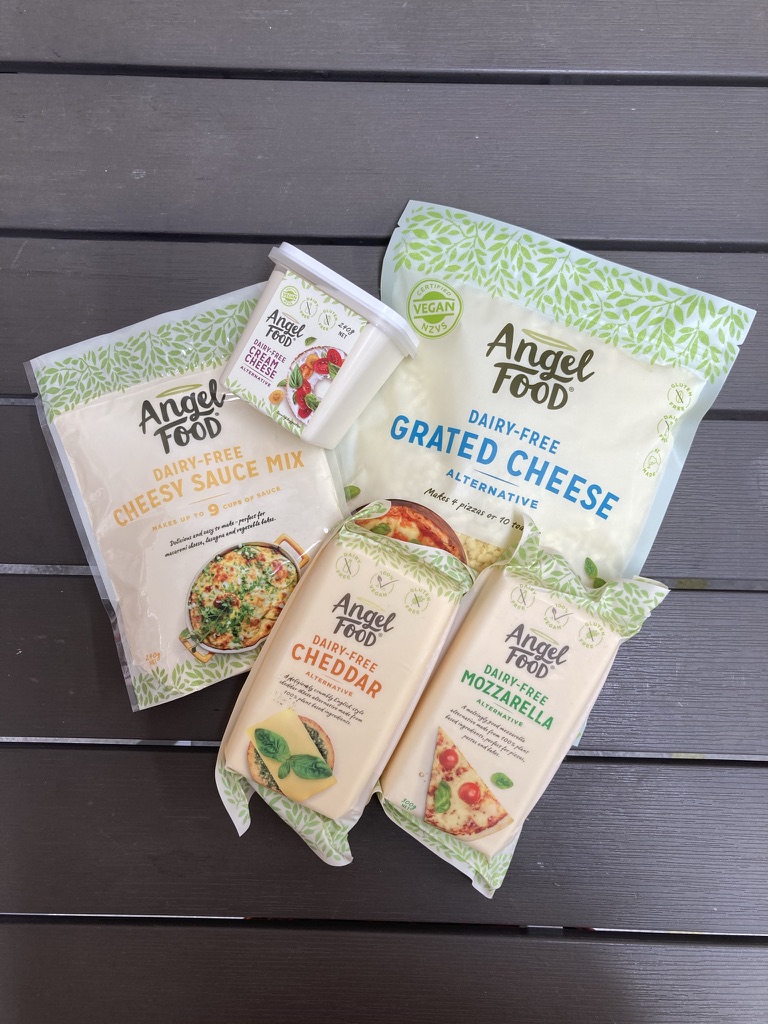 "A friend called me "pathologically optimistic" and I think that's probably true. I had a 'how hard could it be?' attitude. And it turned out to be very very hard. You're creating a dairy-like product that contains no dairy and it has to be flowable during manufacturing and then firm enough when set, to be sliced or grated and then after that it needs to melt again when the customer cooks it. The texture is the biggest challenge."
Angel Food started in Alice's kitchen and for a while she and her husband tinkered around with different recipes before admitting defeat and hiring a food technologist to help out. After a few years of perfecting the recipe they began working with fast food chain Hell Pizza, using their pizza ovens to test the performance of the cheese.
"I still remember the day our final product went on the menu at Hell Pizza. I ordered a vegan pizza to our house and the delivery boy saw our business logo on the gate and on the pizza box and he did a double take. That experience was really special."
Alice's journey to construct the perfect dairy-free cheese came from a desire to create a more sustainable food ecosystem not just for herself but for anyone who was interested.
"One of the things people always said to me was, 'good on you for going vegan but I could never give up cheese.' I realised that one way I could make a difference was to help people make better food choices, ones that have less of an environmental footprint. Although veganism isn't just about food, food is important. We're choosing options three times a day so we can have a massive impact."
Even though Angel Food is a success story these days, it was a long hard journey for Alice and her husband who put everything they had into the business. Alice says she has learnt a lot of hard and sometimes expensive lessons along the way and there were definitely times she was ready to give up.
"The day of our 10 year anniversary of the business, was actually one of the days that I wanted to give up. I was exhausted, and that was just part of working too hard, trying to do everything. In hindsight there were definitely times I should have worked smarter not harder."
But it was Alice's self-proclaimed stubborn nature and feeling she owed it to her shareholders that kept her going.
"We did two rounds of equity crowdfunding so we have 260 shareholders who have all invested various amounts of their hard-earned money, and I take that responsibility very seriously. I also believe in the business and the fact that we genuinely are making progress and having an impact."
The vegan movement in New Zealand has come a long way since 2004 when Alice says it felt like you knew every vegan in Aotearoa. Nowadays Angel Food caters to the dairy intolerant, people on plant-based diets and even those who continue to eat animal products but want to cut back. She credits an awareness around the environmental impacts of dairy to the growth of the market.
"That awareness of how dairying was contributing to our water quality and the swimmable rivers campaign created a big shift. Before that it was hard to get people to understand why you would be making a dairy-free version of dairy cheese. There was also the point where one of the major petrol stations added a vegan pie to their regular offering and in that same year you could get vegan ice creams which was amazing to see."
Alice says the future of the company looks bright and there's a secret project underway at the moment that she's looking forward to revealing soon. In the meantime she's happy focusing on her goal of giving Kiwi more sustainable choices.
"I want to continue to help show that NZ doesn't have to be so reliant on animal agriculture and there are smarter ways to eat."
Alice and her team recently engaged with Kea Connect to explore the possibilities for exporting into the US market. While they decided not to pursue the opportunity at this time Alice says talking to other Kiwi in those markets has been extremely useful in setting the scene of decisions to be made.