Meet the Kiwi helping keep Scottish tradition alive
Offshore Kiwi Michael Braithwaite has a unique job. He's the Creative Director of one of the world's biggest annual outdoor spectacles – The Royal Edinburgh Military Tattoo. The Tattoo has been running since 1950, involves a cast and crew of around 1500 and is the jewel in Edinburgh's events crown. Kea caught up with the former Dunedin musician to find out how he ended up running one of the UK's biggest outdoor spectacles and what it takes to breathe new life into such a time honoured tradition.
Michael was at home in New Zealand and 24 hours into lockdown when a recruiter from London called with a unique opportunity, an opportunity which at that point had never been offered to someone outside the British Military.
"Since 1950 the Edinburgh Military Tattoo has been directed and overseen by a retired senior officer from the British Military, mostly a General or a Brigadier. However, this time around the Tattoo Board decided to split the role of the person that oversees the event into two roles – a CEO and a Creative Director. They decided that this Creative Director should be someone from the Entertainment industry. I immediately realised what a unique and big opportunity this was."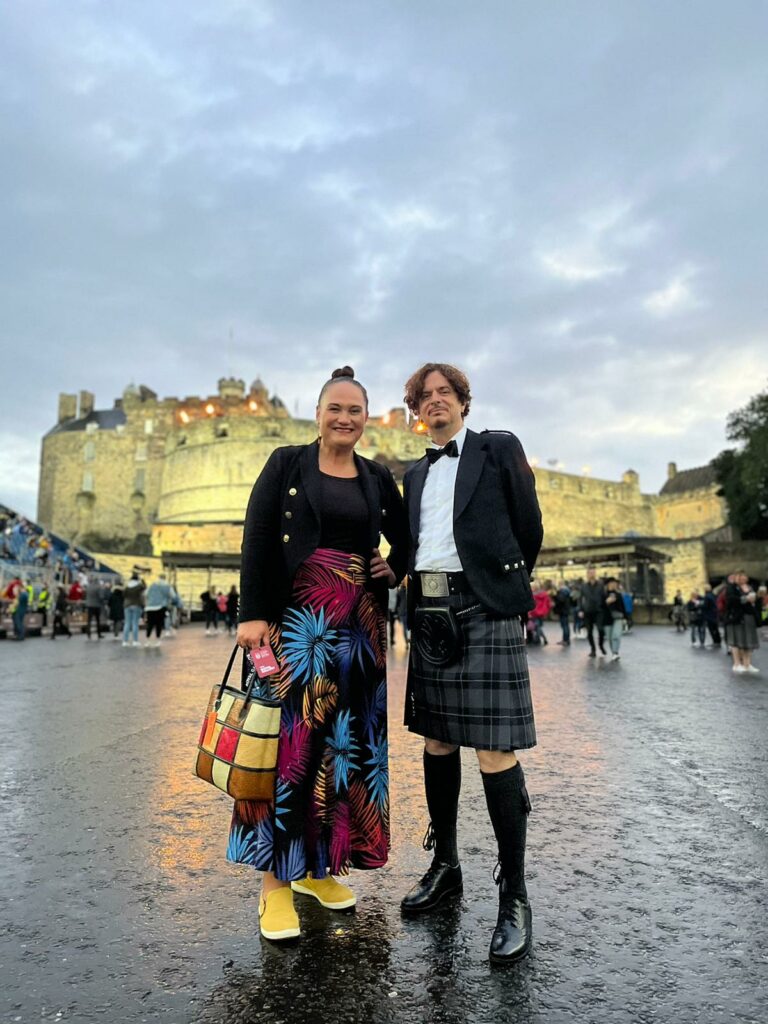 Michael's always been involved in live productions and entertainment. He credits his success to pure determination and never giving up.
"During my early years in the industry, I was always focused on saving enough money for a plane ticket. I would head over to LA, New York or London and pester people to give me work. I figured that one day I would be able to open a door. It was during one of these trips that I was invited to attend the New York Commercial Theater Institute, to take part in an intensive course called Producing for Broadway and the Road. After that I headed up to London, managed to talk my way in the door of Jim Henson's Creature Shop and took a job as a producer in their live entertainment division."
That break paved the way to a number of big opportunities, including working on two of the Harry Potter films, the Belfast Arts Festival, as producer MusicWorks in Scotland, producing The Mayor of London's Outdoor Festival for the 2012 London Olympics and as Senior Creative Director for Merlin Entertainment – a global company operating in 23 countries. Michael had just recorded an album in Los Angeles with his band Down in Splendour and returned to New Zealand, ahead of the covid pandermic when the call for the Tattoo role came in.
"It was the most incredible timing, literally nobody was getting any work. Our whole sector just dried up overnight. The opportunity was a real lifeline. It was also really brave and forward looking from the Edinburgh Tattoo Board because no one else was hiring or even thinking about holding live events right then."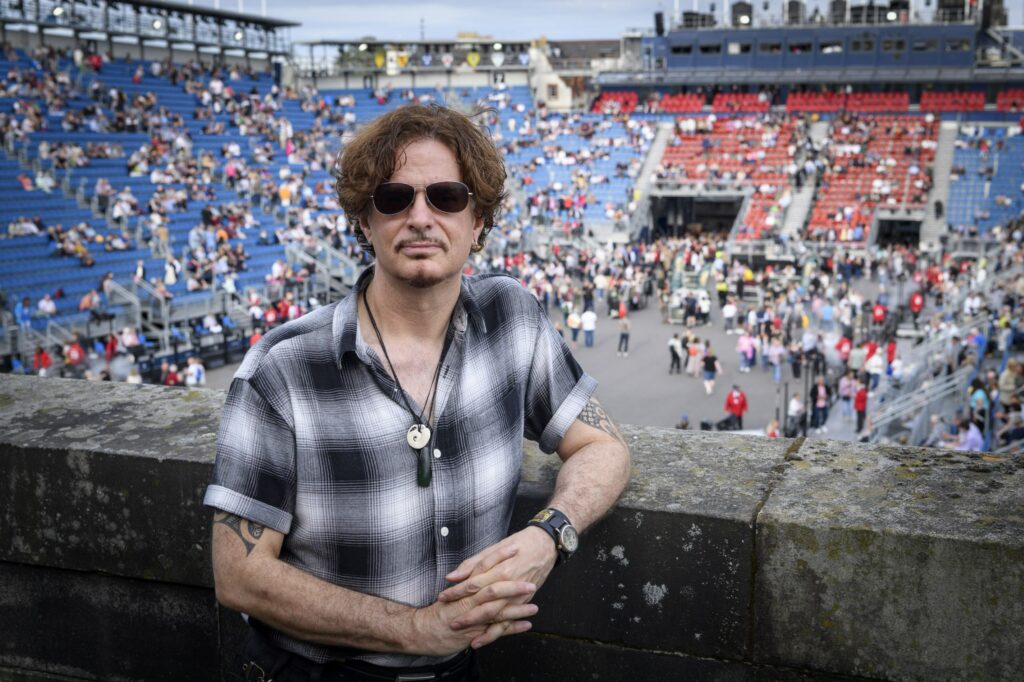 For Michael one of the most important things to understand was the appetite for investment and innovation, two things he needed in order to meet the brief of keeping all the traditions and beloved parts of the show but to raise it to a new level by adding production values and creative expertise.
"If I was going to do this, I didn't want to play it safe. The Board assured me they were up for some big changes, and I have to say they have been incredibly supportive. That doesn't mean I don't have creative constraints, but I also have a lot of freedom."
Since taking on the role in 2020 Michael has had to come to grips with his new working environment and overcome a number of challenges due to the very nature of the location of the event.
"The design of Edinburgh Castle makes it so challenging. We've got 9000 seats and one way in and one way out; it's a logistical nightmare that only the military could handle. The castle is heritage protected so you can't have people coming down walls because they might damage them, you can't put pressure on the structure, you can't use drones because they might fall down and hit the castle, it really challenges you to think. Also, the wind up there is cataclysmic and when it rains it pours… and you can't put a kilt in the dryer."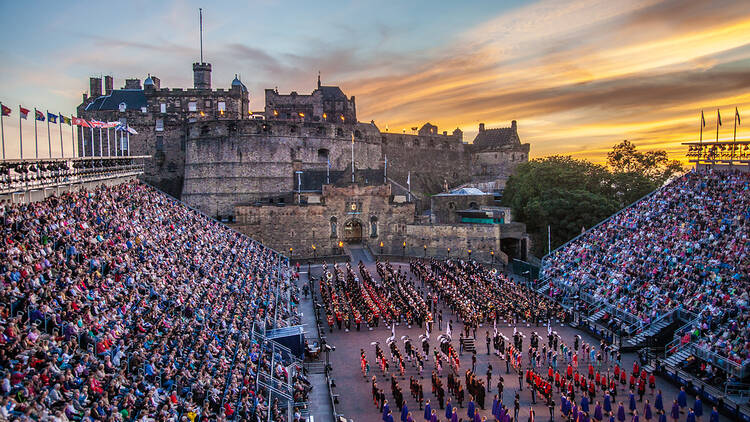 "After Covid when we were looking at a socially distanced event, we considered the idea of moving it from the Castle. But you can't take away the Castle; it's a big part of what makes the event so spectacular. There are Tattoos all around the world but the Edinburgh Tattoo is so special because of its location."
Despite the challenges Michael has brought a number of new elements into the show as well as increasing the cultural diversity, both moves which have been well received by fans.
"Each year the military groups will come with their own innovations. In 2022 we had the New Zealand Army Band, who are currently one of the rockstars of the Tattoo circuit – everyone wants them because they are such great entertainers. I really pushed them to bring more New Zealand flavour to their performance. Before they came on we had the Highland Divas, who were singing in Scots Gaelic. For their final song we used a song called Āio Ana by Kiwi, Moana & The Tribe where they went from Scots Gaelic into Te Reo and then the New Zealand Army band came out with Tarakihi, also in Te Reo. So we had a real merging of cultures."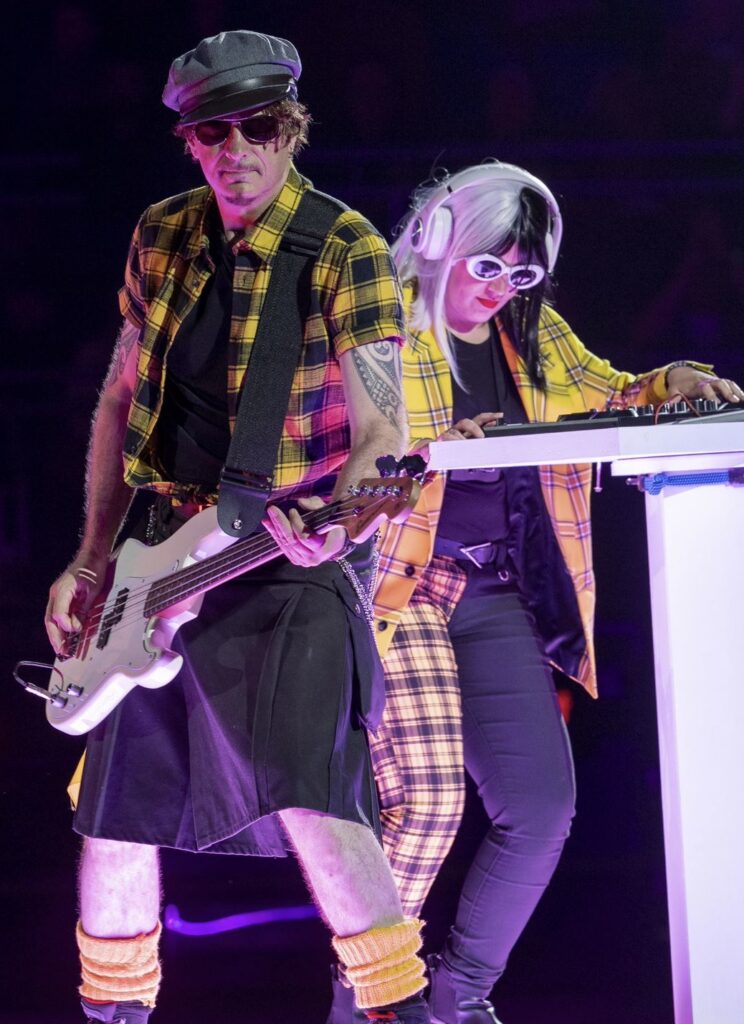 "One of the biggest numbers last year was a section called Electro Pipes, where we had EDM dance music with bagpipes. There were fireballs going off, video floors, DJs out there with bagpipes and huge projection mapping on the castle. I had great fun with it, but thought it might generate complaints. The reality was we had people online trying to find out where they could book the band, when it was just a number of our in-house performers that I put together six days before the show opened.
Michael says being Kiwi has helped him bring a unique flavour to the Tattoo, partly because the job is largely that of a storyteller.
"Kiwi understand the art of storytelling because we are travellers, and journeys, at their heart, are made up of stories. It wasn't until I left New Zealand that I really appreciated that part of me."
With sold out performances in 2022 and planning for the 2023 show nearing completion, The Royal Edinburgh Military Tattoo looks to be wowing crowds for decades to come. Michael says he would love to bring the show back to New Zealand one day and is always looking ahead to see how he can continue to raise the bar.
"I still have some ideas of how I can make the Tattoo bigger and better, and there are also things I would like to do over and above the Tattoo. Right now, I'm keen to spend more time in New Zealand and look at ways in which I can use my experiences to help others in the sector. I think it's important for New Zealanders to go offshore and have these experiences, but also to come back and share their talents with others."