Global Insights – January 2023
Our Kea Regional Directors give on-the-ground insights into what is happening in their region and the opportunities this presents for New Zealand export businesses.
North America
Happy 2023. This month there has been a big push in NYC to get workers back to the office, which looks like a common theme around the US, even though 30% of respondents in a recent survey told researchers they were more productive and engaged working from home.
The two big headlines dominating the news this month are the economy and the Super Bowl. Although there are mixed thoughts on if or when a recession will happen, most business commentators are advising companies just to be prepared for a slightly bumpy 2023 and to be careful with budgets. This slightly grim outlook hasn't stopped American's getting super bowl fever however – at the time of writing, the NY Giants upset the Vikings and advanced to NFC Divisional Round to face the Philadelphia Eagles this weekend. The last time they had a win in the playoffs, they went all the way to the Superbowl, so New Yorkers fingers are crossed.
If you are a Kiwi business planing to travel to the US this year remember that July and August are the two months when the US heads away for the annual summer holidays. It can be hard to pin
meetings down during this time of the year. If you are coming soon then despite the winter weather it's a great time to do business. I am looking forward to continuing to support the amazing Kiwis in the US and helping connect the dots for New Zealand businesses in 2023.
Gary Fortune, Kea North America Regional Director
UK and Europe
Ngā mihi o te tau hou & happy new year! Looking forward to another exciting year working with our offshore community, Kea partners & NZ Inc whānau across U.K. and Europe.
2023 sees some exciting new additions to our UK NZ Inc community – we are looking forward to welcoming new New Zealand High Commissioner, HE Designate Phil Goff later this month and new Trade Commissioner for U.K. & Ireland at NZ Trade & Enterprise, Joe Allan.
For our first regional meet up, we are excited to host in Glasgow with WCNZ'er Alex Reedijk at Theatre Royal Glasgow on 21st Feb. Kea's Global Director, Government & Industry, Saya Wahrlich, will be on hand to talk about Kea and discuss how the network operates to support its members across the world, and to share a beautiful evening together. Also in February we join the NZ Society to celebrate Waitangi Day, with the Waitangi Day Ball on 3rd February where the UK New Zealander of the Year is announced, and a beautiful church service on the 7th Feb at the St Giles Without Cripple Gate. These events are always a highlight of the offshore community here.
It will be a busy time for kiwi exporters as the Free Trade Agreements are ratified and come into affect in UK & Europe. Alongside amendments to the Youth Mobility Scheme. Both sides are committed to the improved scheme being in place no later than 2024, and the New Zealand High Commission team are working hard to see if it can be delivered sooner. We look forward to sharing updates in the months to come.
With many of our community visiting home over the festive period, we look forward to connecting when you are back and hearing how your travels and visits home have been. As well as our kiwi exporters, now that boarders are open fully it is lovely to see you in the market and to meet again face to face. Please feel free to reach out as you plan your travels to see how we can help connect you in with our dedicated and offshore community.
Sara Fogarty, Kea UK/Europe Regional Director
China
With positive changes taking place in China in the past few weeks, the brand new 2023 looks promising. With the lifting of the Zero Covid policy people with mild or no symptoms can now isolate themselves at home instead of going to quarantine camps. The National Health Commission has also downgraded the Covid-19 management from Category A to Category B. No more mandatory PCR tests are required during daily activities except for schools, hospitals and nursing homes. All venue codes are cancelled. There has been an outbreak of Covid-19 cases since the middle of December across China, particularly in big cities, but most people without underlying diseases experience mild symptoms and recover in about 7 to 10 days. The streets and public transportation are getting busier day by day, China is swiftly back on the ride!
The limitations for international travel were abolished from 8 January 2023. Travellers from abroad will no longer see the quarantine staff upon landing, and won't be sent to designated quarantine hotels. International airports across China are restoring to daily flight volumes, with more flights coming back after the Chinese New Year holiday.
This month China has entered the Year of the Rabbit. The Rabbit is the fourth in the 12-year cycle of animals in the Chinese Zodiac. Usually people born in the year of Rabbit are believed to be witty, quick-minded and vigilant. Rabbits represents many good wishes in Chinese culture. We wish you "Kung Hei Fat Choy" !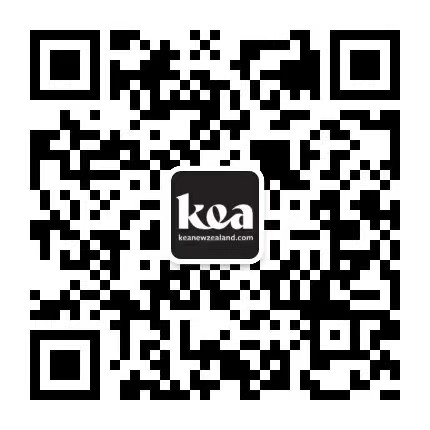 Last but not least, Kea New Zealand brand new WeChat account is now online. We will post events, news, and activities on this platform from now on. You are welcome to scan the following QR code to follow us. Let's get connected.
Rebecca Bao, China Regional Director

New Zealand
The big news this month was the resignation of Prime Minister Jacinda Ardern, announced 19 January and effective upon the appointment of a new Prime Minister. The resignation triggers a caucus vote to elect a new Party Leader on 22 January. The eagerly anticipated 2023 General Election date has also been confirmed for Saturday 14 October 2023. Parliament will be dissolved on 8 September, and advance voting will commence on 2 October.
The Government has kicked off 2023 maintaining its strong trade focus, with Trade and Agriculture Minister Damien O'Connor visiting Europe in mid-January to discuss the role of agricultural trade in climate change and food security, WTO reform and New Zealand agricultural innovation.
Minister O'Connor is attending the World Economic Forum and associated World Trade Organization (WTO) meetings in Davos, before travelling to Berlin for the Global Forum for Food and Agriculture and meetings with German government and industry leaders. The focus will be on supporting New Zealand exporters, particularly those in primary industries, to adapt to issues like climate change. Both meetings will provide important opportunities to lobby for the ratification of the EU-NZ Free Trade Agreement.
Minister O'Connor will also participate in a panel on indigenous trade, highlighting New Zealand's Trade for All agenda and showcase New Zealand's global leadership and innovation in sustainable agriculture while at the Global Forum for Food and Agriculture. This forum is the world's largest informal conference of agriculture ministers and industry, and New Zealand's participation enhances our credentials as a global leader in agricultural innovation along with our exporting brand.
The impact of global economic headwinds on New Zealand's export industry is still unclear. China's rapid move away from its zero-Covid policy and reopening of borders in time for Chinese New Year had an immediate effect on food consumption patterns, with one report noting that 10 days out from Chinese New Year eve restaurant bookings for family reunions were at 90% of 2019 levels. China is the world's largest importer of meat, and increased consumption of New Zealand meat and seafood in China may help offset the expected reduction from markets such as the UK, Europe, and the US where inflation is reducing household spend and challenging the food service sector.
The December closure of Todd Energy's Kapuni CO2 plant for safety reasons is having a significant flow-on effect for exporters with air cargo exports severely impacted by the critical shortage of liquid CO2 and dry ice. Liquid CO2 is used to create dry ice, with many thousands of kilograms used weekly to fly high-quality perishable goods, including meat, fish, dairy, and pharmaceutical products, internationally. New Zealand's dry ice price has increased from $4 per kg in October 2022 to $18 per kg in January, and exporters are concerned Australia's lower rate of $3 per kg will see offshore customers switch source of supply. Beer and cider brewers are also reducing production and seeing price hikes as CO2 is rationed.
Saya Wahrlich, Global Director, Government & Industry
---
HOW KEA CAN HELP YOUR BUSINESS GROW