Finding our place in the space race
This week the global conversation at Expo 2020 turns to space, and more specifically how the space economy can benefit all humankind. New Zealand isn't really the country that immediately comes to most people's minds when talking about space exploration but a 2019 report by Deloitte found that Aotearoa's space industry is around the same size as our wine industry. So what opportunities exist for New Zealand in this final frontier? We spoke to some of our Kea community leading the way.
Kea World Class New Zealander Delwyn Moller, a trained engineer, has worked in the space industry for a number of years. She was part of NASA's Jet Propulsion Laboratory in California where she worked on radar technology, primarily with a focus toward Earth science, before arriving back in New Zealand three years ago.
She's an adjunct Professor at the University of Auckland and right now is working on a collaboration project between the University of Auckland and NASA which will see a Global Navigation Satellite System Receiver (GNSS-R) fitted onto an Air New Zealand Q300 plane. Delwyn says the GNSS-R will act as a scientific "black box" gathering data as the plane flies around Aotearoa on its scheduled passenger flights.
"We will be looking at the difference between the direct signal from the satellite and what's being reflected off the earth's surface. The GNSS-R will allow us to collect data on changes in soil moisture, wetland monitoring, flooding, and susceptibility of drought to name a few. We will get these continual records over months to years, which will allow us to see short term dynamics and also long term changes to our environment."
The project is a first of its kind collaboration in terms of a commercial airline partnering to gather data from space. Delwyn says the focus on collecting information to help us be better custodians of this planet is something New Zealand is uniquely positioned for.
"We have a long, skinny country covering a large range of latitudes, lots of ocean, close to Antarctica and we have strong relationships with the Pacific. We also experience a range of natural disasters. In terms of being able to carry out research into different climate issues, we are a perfect proving ground."
The use of our unique climate to help collect satellite data is also a focus for the New Zealand Space Agency. Paul Stocks, head of the agency at MBIE, says beyond rocket launches, New Zealand has strengths in applying space-based data in areas such as agri-technology, hazard management, natural resource management, oceanography and meteorology.
"The positive impact of space-based data and services for understanding climate change and mitigating or reducing environmental harm is immense. A good example of this is MethaneSAT, which is New Zealand's first government funded space mission which uses state-of-the-art satellites designed to detect global methane emissions. In partnership with US environmental NGO the Environmental Defense Fund, it is focused on rapidly reducing oil and gas industry emissions but can be used for measuring methane from other sources such as agriculture."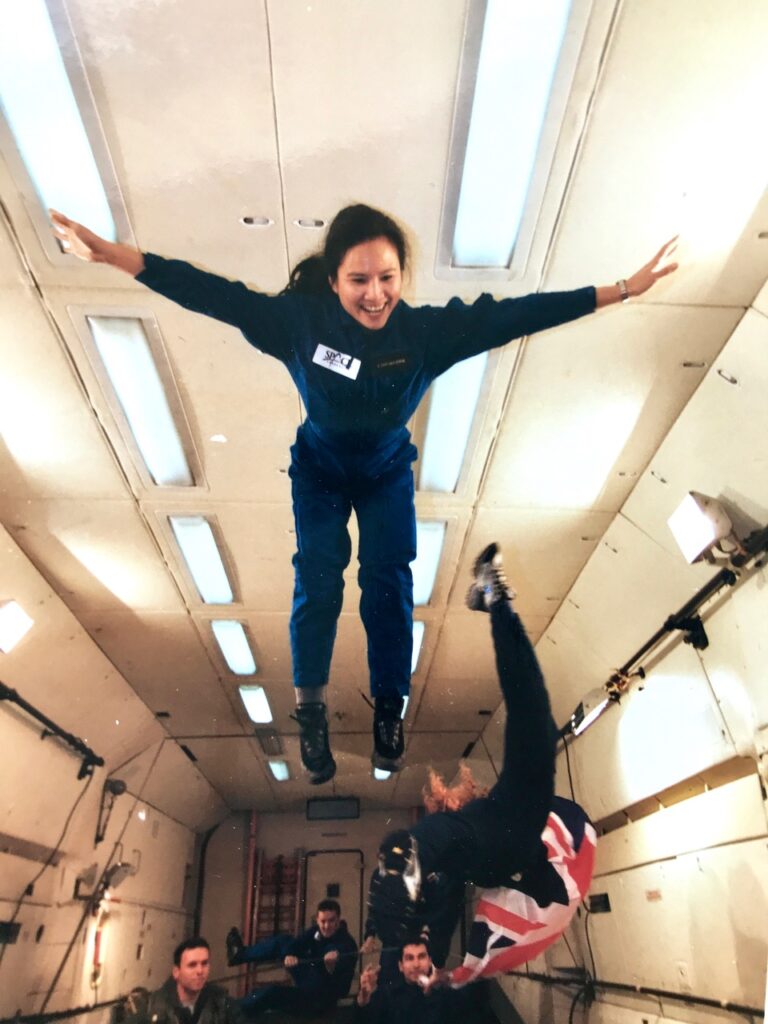 These collaborations are just some of many projects happening right now across New Zealand's space industry. Spacebase NZ founders Eric Dahlstrom and his partner Emeline Paat-Dahlstrom emigrated to New Zealand four years ago because they recognised the huge potential of the Kiwi space industry. Emeline says our increasing expertise in this area has really made the world sit up and take notice.
"New Zealand has an excellent reputation in the space industry right now, a couple of years ago an Australian company built a satellite and they wanted to launch it. Normally this process takes around two years, however Rocket Lab and others behind the scenes worked really hard and launched the satellite in just two months. The speed at which this was done made the whole world sort of wake up and take notice, no one ever thought something like this could be done so quickly."
She says New Zealand is also leading the way when it comes to the sustainability of the sector.
"Clean space is an area we are already leading the world in, other countries are talking about five and ten year plans to make their space programmes more sustainable and environmentally friendly and all the things on these plans are things New Zealand is already doing, it would be great to see us take advantage of that and continue to be a leader in this area."
The global space economy has grown significantly over the past decade and is currently valued at around $350 billion US dollars. Investment company Morgan Stanley has forecast it to grow to more than one trillion US dollars by 2040. In New Zealand alone the economic contribution of the space economy was $1.69 billion in 2018-19.
So how do we continue to grow benefits here? Offshore Kiwi Lau Saili leads the development of the Space sector for the Queensland State Government in Australia and says there are opportunities for New Zealand and Australia to further cement their position in this global industry through collaboration.
"For most of history the space industry has been predominantly government-led, in the last decade there has been a transfer of risk and opportunities to the private sector. Companies like Rocket Lab have shown the way for what's possible in safe developed countries which are strategically placed. Currently the majority of space launch activity is in the Northern hemisphere, we have a real opportunity, I think, to bring a lot more of it down our way especially if New Zealand and Australia work together to cement our place in the future of this industry."
Eric Dahlstrom says Spacebase is helping Kiwi startups create success in the industry and people should know that the future for New Zealand's industry is bright.
"There are all these little pockets of activity for building satellites and sensors and getting them ready to fly but the biggest opportunities are around what to do with all this satellite data. There are a lot of companies in New Zealand that are focused on interpreting this data in clever ways with machine learning and AI. There are some great opportunities in New Zealand to work in the space industry and we need to make sure people know that."