Guled Mire – 2022 Kea World Class Award winner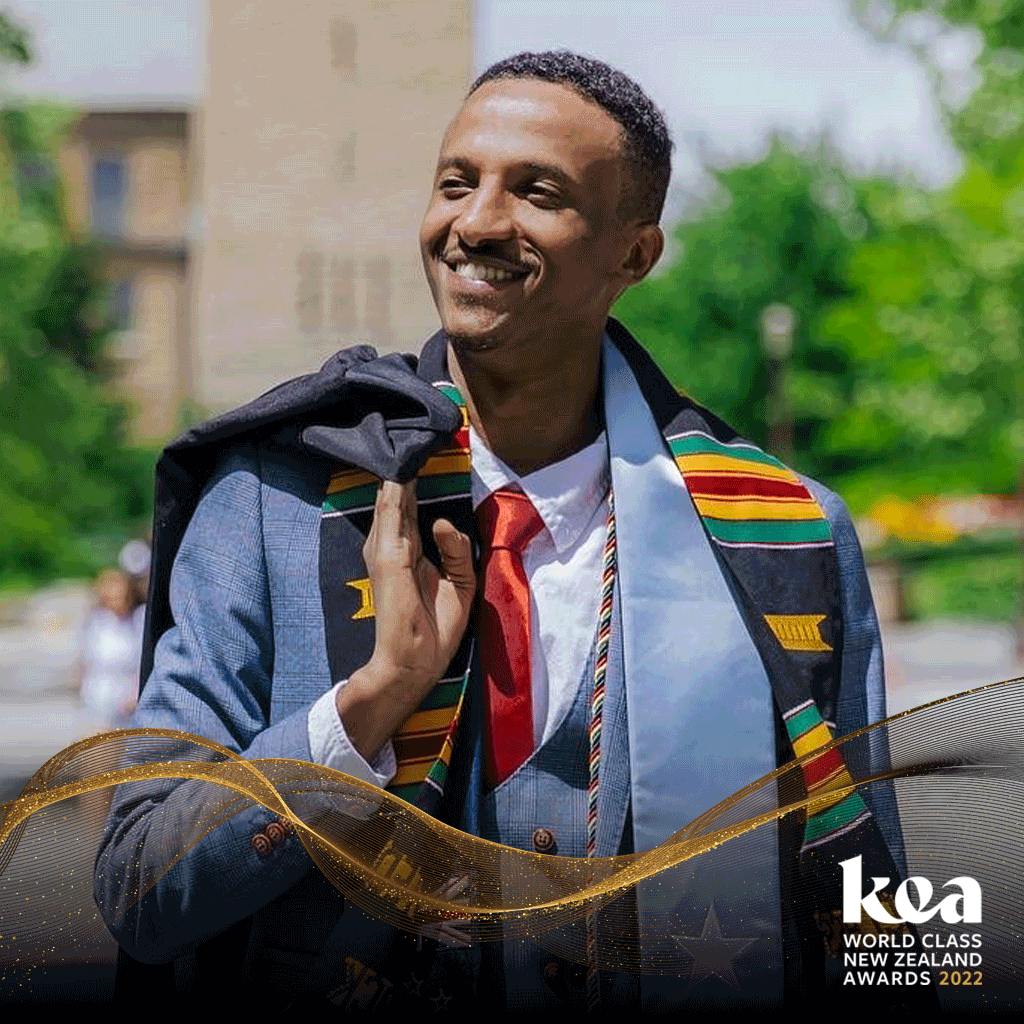 WCNZ Award winner
Guled Mire has been recognised for his leadership and contribution to public policy and his efforts to better connect ethnic and minority communities in to Aotearoa. He's a human rights advocate who works to champion the way forward for a more inclusive New Zealand. Guled is a Fulbright Scholarship recipient who spent time at Cornell University in New York and is using the lessons learned during his time in the USA to help inform public policy in this country. He's twice spoken on behalf of New Zealand at the United Nations and chaired conversations with the United Nations High Commissioner for Refugees. He became a spokesperson for the Muslim community following the Christchurch Mosque attacks.
Guled was born into the height of the Somali Civil War. The seventh of nine children, he was just two years old when his mother decided that a war zone was no place to raise her family and so she packed up and fled to neighbouring Kenya. Guled's father remained in Somalia but was later killed when a mortar shell hit their family home.
The family briefly lived in a refugee camp before moving to the Kenyan capital of Nairobi. Guled and his family were resettled in Hamilton, New Zealand when he was six years old. For a child with little to no grasp of the English language, Guled says landing in Hamilton was quite the culture shock.
"I remember at the time it felt like a big adventure. We arrived in September so it was cold but not super cold. The biggest difference was what you could see, all the green landscape and of course the change in demographics."
While Guled has good memories of primary school in New Zealand things got more difficult when he entered High School. After being kicked out of his first high school at 14, he enrolled at another before eventually dropping out altogether at just 16.
"I had a rough time at secondary school, I didn't fit in, I didn't have any sort of mentors or teachers who guided me. Teachers told me again and again that University wasn't for people like me and I wouldn't amount to much. These were the messages that were relaid to me over and over again."
After leaving school Guled travelled for a while, returning to Kenya to visit family still living in the refugee camps. He began to realise how different his life could have turned out and how much his mother had given up for their life in New Zealand.
"When you come from a refugee background, your parents have restarted their whole lives just for you. It really motivates you. This was what eventually drove me back to New Zealand and back to study. My mother was my biggest driver. I really wanted to show her that all she has sacrificed is worth it. My mother has become a catalyst for everything I do."
Upon returning to New Zealand he enrolled in public policy at AUT and after passing with flying colours, he spent the next seven years working for the New Zealand Government in various policy areas including diversity and inclusion and pay equity. He has spoken on behalf of New Zealand at the UN and chaired conversations with the United Nations High Commissioner for Refugees. He has also appeared on Sesame Street, alongside Grover in a special programme about refugee children. Following the Christchurch Mosque shootings, he became a spokesperson for the Muslim community, visiting those affected and helping them cope with the aftermath of the attacks.
Guled's former colleague Mervin Singham, Chief Executive of the Ministry for Ethnic Communities, Te Tari Mātāwaka, says Guled is a natural born leader.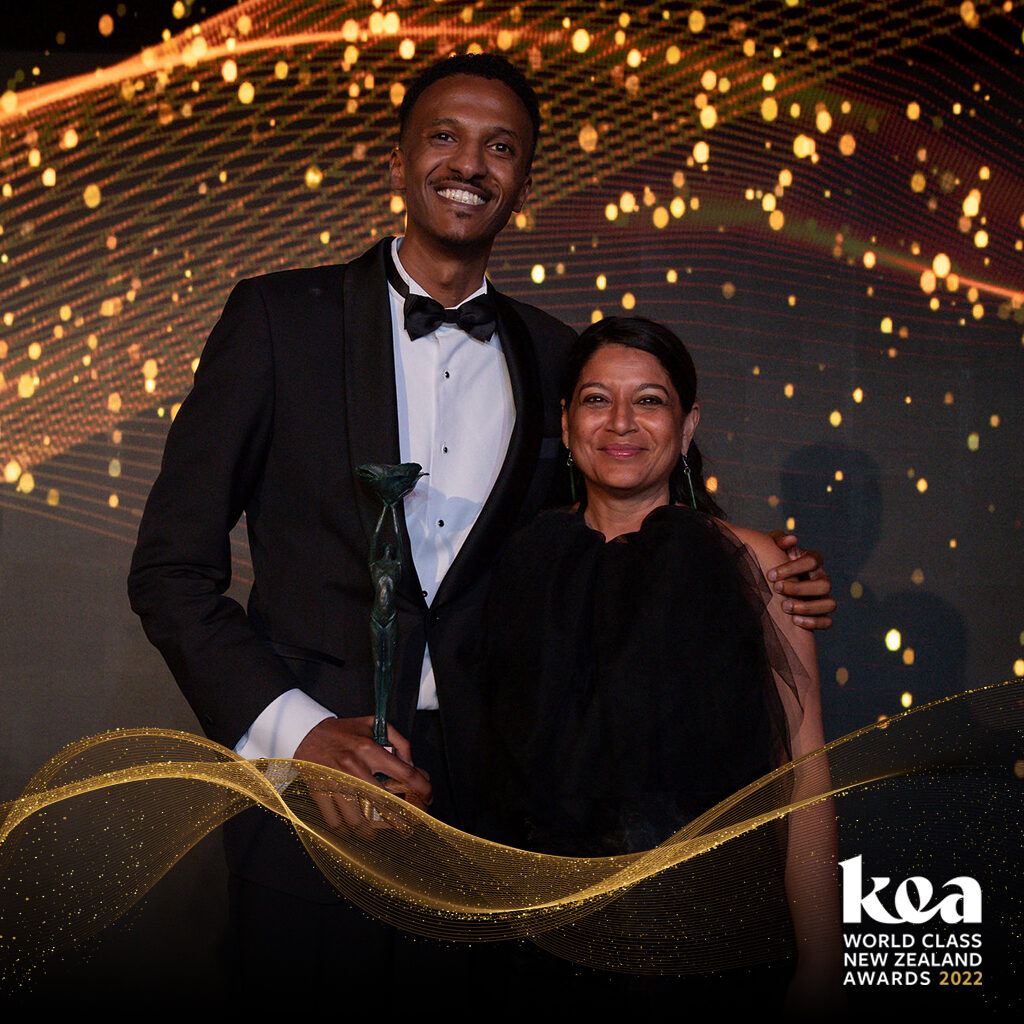 "Guled listens to everybody. He makes sure he listens to the most vulnerable voices respectfully and with empathy. He tries to take everybody along with him and he's got a real passion for diversity and inclusion, which he has demonstrated during his career. The thing that inspires me most about Guled is his tenacity. He is somebody who has faced adversity in his life, and he's used his career as a platform to make sure that people are included."
Guled is also a passionate advocate for refugee rights and an advocate for Muslims in New Zealand. He has recently taken up a new position with the Ministry of Business, Innovation and Employment (MBIE) where he hopes to share the learnings from his time in the US.
"I think it's important for us as a country to not repeat the mistakes that perhaps others have. I was able to immerse myself in courses that allowed me to explore that, alongside world class leading scholars and future global leaders. Being in classrooms, amongst like-minded individuals who themselves are committed to helping shape their society, has really been the best part. Making those connections, which I am sure will be advantageous, not just for me but for those I work with, for many years to come was really the most valuable part."
New Zealand MBIE Chief Executive, Carolyn Tremain says Guled is a true advocate at all times for things to be better.
"He's taking away some of the barriers that perhaps we, as Pākehā New Zealanders, don't see. He challenges the status quo. He's passionate at all times about issues that affect ethnic communities or faiths. And he's a terrific ambassador for wanting to aspire for things to be better for the communities he represents and for New Zealand as a whole."
Guled says being presented with a World Class New Zealand Award reconfirms the notion that this is his home and he hopes his recognition will inspire other young refugees.
"Winning this award really means a lot because I never really would've imagined in a million years that I would be here being recognised alongside people whom I very much admire and look up to. I think it's in some ways bigger than me. I hope that it can serve as a sense of inspiration for young refugees that are growing up in New Zealand, that they too belong and that they too can one day become a World Class New Zealander."
And while he acknowledges New Zealand still has work to do when it comes to diversity and inclusion, he says that New Zealand is a country, which on the whole, likes to give people a fair go.
"I would like to see a New Zealand where it doesn't matter where you come from, your race, your ethnicity, your background. I want to see a society where all New Zealanders have a strong sense of belonging and are valued integral members of society. I think Aotearoa has a real opportunity to be a world leader in this space and I will continue to use my voice and my platform to help spur and influence change."